Tokyo bets on lighter frigates, plans to double E. China Sea naval build-up – reports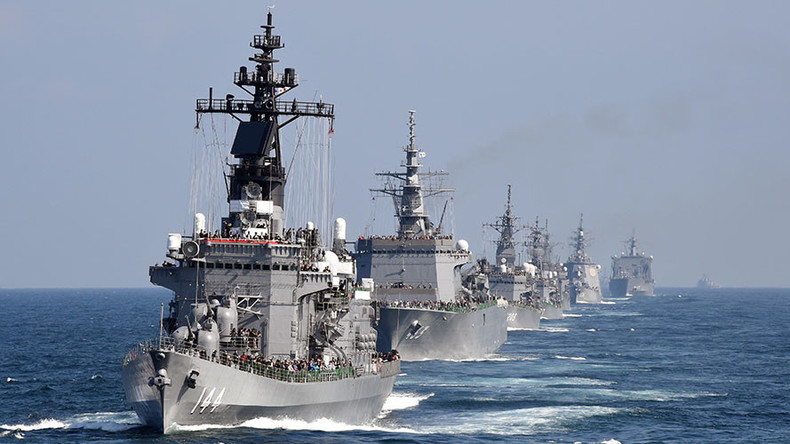 Japan will reportedly step up its naval buildup and shift construction efforts to lighter military frigates to modernize its East China Sea force as territorial tensions with China escalates over the disputed islands in the region.
Tokyo intends to double its warship construction plan and build two smaller 3,000-ton class patrol ships a year instead of one heavier 5,000-ton class destroyer which Tokyo produces annually, three informed sources told Taiwan-based Central News Agency.
Japan seeks to build eight such ships at a lower cost as it plans to maximize the reach of the Japanese navy and extend the patrol area of the eastern coast of the East China Sea.
Construction is reportedly set to begin in April 2018 fiscal year. Mitsubishi Heavy Industries, Japan Marine United Corp (JMU) and Mitsui Engineering and Shipbuilding are expected to bid for the new shipbuilding contract, the report said.
The new ships will cost 40-50 billion yen ($353-$443 million) each, a source familiar with the matter told Reuters, which also reported on the issue.
Japan and China are in a long territorial dispute in the East China Sea. Both countries are claiming a group of uninhabited islands known as the Senkaku in Japan and the Diaoyu in China.
The islands were transferred by the US to Japan's administrative control in 1971, sparking the territorial dispute with China. Beijing has claimed ownership of the islands from the 14th century, while Tokyo argues it had ownership of the islands from 1895 until its surrender at the end of World War II.
The report of the new shipbuilding strategy surfaced less than two weeks after US Defense Secretary James Mattis reaffirmed American commitment to Japan's security. Speaking in Tokyo on February 4, Mattis said US protection also extends over the disputed territory in the East China Sea.
And just last week, Donald Trump hosted Japanese Prime Minister Shinzo Abe, where the US leader cemented the American commitment to support Japanese territorial claims.
Trump and Abe "affirmed that Article V of the US-Japan Treaty of Mutual Cooperation and Security covers the Senkaku Islands. They oppose any unilateral action that seeks to undermine Japan's administration of these islands," a joint statement read.
Beijing immediately issued a comment vowing to protect its sovereignty in the region.
"No rhetoric or actions, from whomsoever, will change the fact that Diaoyu Dao belongs to China or waver China's resolve and determination to uphold its national sovereignty and territorial integrity,"said China Foreign Ministry's spokesman Geng Shuang.