US delegation ushers out media as Tillerson starts talking to Lavrov at G20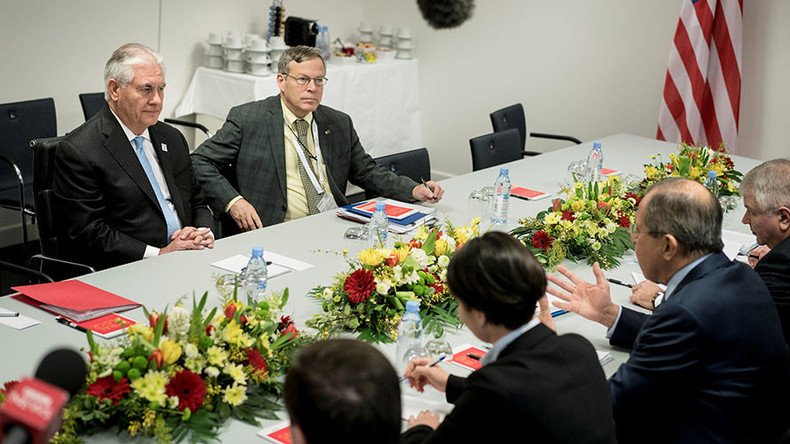 Journalists were asked to leave as Secretary of State Rex Tillerson began addressing the Russian FM Sergey Lavrov, during their first meeting in Bonn, raising questions and surprising the Russian FM.
The meeting between the two senior diplomats began with a protocol handshake in front of the cameras. The Russian Foreign Minister then stepped in as the more experienced diplomat.
"Mr. Secretary of State, I thank you for this opportunity to have the first contact after you have assumed the office and I would like to congratulate you once again for that," Lavrov said.
He also briefly answered a question from the press on whether the "turbulence" in Washington has ramifications for US-Russia relations.

"One should understand that we don't interfere in other nations' domestic affairs," he said referring to the recent resignation of President Donald Trump's national security adviser, Michael Flynn.
Tillerson began his opening remarks, and that's when things went off course. The US Secretary of State only managed to say that he was also glad to meet his Russian counterpart when the US delegation signaled the media to leave the room, Russian media reported.
"Why did you shush them out?" Lavrov asked of the unfair treatment of the media by the Americans, Bloomberg quoted him as saying.
After the meeting had concluded, Tillerson gave a short statement, which lasted less than a minute, and refrained from answering any questions. On his way out, the Secretary of State ignored a journalist, who wanted to know if he and Lavrov have met before.
READ MORE: Russian FM Lavrov expects to talk to US counterpart Tillerson soon on Ukraine & bilateral relations
Both parties described their maiden talks as "productive" and said they were eager to try finding ways of mending Russia-US relations.
"As soon as the teams in the State Department and the relevant agencies are formed, we expressed readiness to establish contacts," Lavrov said.
Tillerson, on his part, emphasized that "the US will consider working with Russia when we can find areas of practical cooperation that will benefit the American people."
READ MORE: Senate confirms Rex Tillerson for US secretary of state
Lavrov and Tillerson also discussed Syria, Afghanistan, and Ukraine, with the sensitive issue of sanctions, imposed on Moscow under the Obama administration, not raised in Bonn.
You can share this story on social media: