'Forced to strip & pole dance': New details emerge of sadistic abuses at elite German military base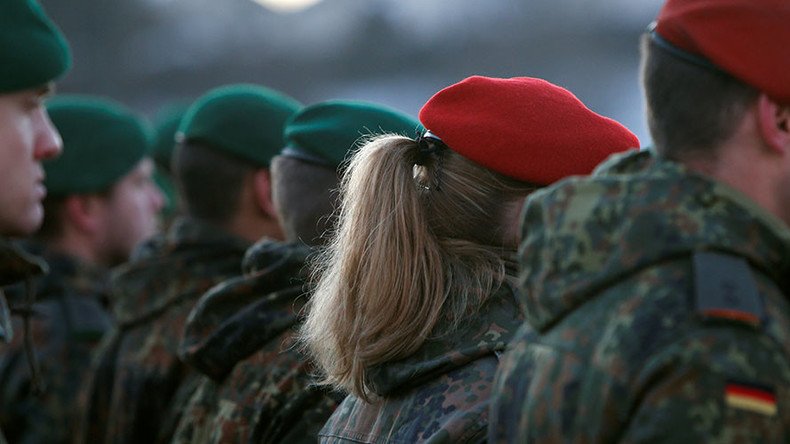 Female soldiers have been routinely forced to strip and pole dance as part of humiliating "recruitment tests" and "training sessions" at the notorious military base in southern Germany, according to a new internal report obtained by German media.
A report issued by the German Armed Forces, the Bundeswehr, and seen by Der Spiegel and DPA contains testimony of a female soldier identified only as Nicole E, who was sent to the infamous Pfullendorf military base in Baden-Wuertemberg in 2016.
The infamous military facility hit the headlines late January when it was revealed that "sexual abuse and sadistic actions" were "common practice" there.
In her testimony, Nicole E. said instructors at the base forced her to go through a humiliating "recruitment test" that involved a dance against a pole in the soldiers' barracks.
A pole that is usually seen in strip clubs was indeed installed in the middle of one of the barracks, and female recruits were frequently forced to perform dance routines, the military inspectors found when they investigated the incident, Der Spiegel reports. Investigators also discovered a shelf full of opened schnapps bottles in that room, concluding that the abusers often drank alcohol there.
During 'training sessions' at the base, recruits were often forced to strip naked, while the trainers touched female soldiers in intimate areas without wearing any gloves and performed something they described as a "smell test." Nicole E. said they often took pictures of the naked recruits for what they claimed were "training purposes."
The victims' accounts were largely confirmed, according to investigators who also found out that to protect themselves from any accusations, the abusers forced recruits to sign consent forms.
It also emerged that supervisors who were tasked with monitoring the training activities at the base regarded the situation as "absolutely normal," and some reportedly even took part in the abuse.
The damning military report characterized the situation at the base as demonstrating "a grave lack of management, training, education and duty supervision." Dealing with the problem would involve "wiping the slate clean" and working on a "radical mindset shift" of every member of the military personnel who had served at the base.
However, five trainers, who were accused of abuses described by Nicole E, including a supervisor in the ranks of a major, were merely reassigned to other positions at the base or sent to other military facilities with some reportedly even being offered posts within an elite unit of the German Armed Forces.
You can share this story on social media: