US troops deployed to Bulgaria as NATO boosts Eastern European presence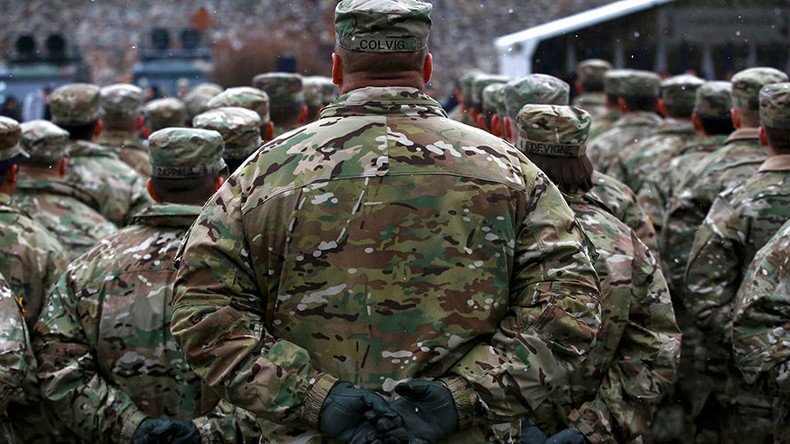 US troops arrived in Bulgaria on Wednesday, with armored vehicles and heavy equipment to be shipped by the end of the week as part of NATO's significant buildup in Eastern Europe, the Bulgarian Defense Ministry has said.
Around 120 US servicemen from Fort Carson, Colorado were accommodated at the Novo Selo military base in the east of the Black Sea country, according to Bulgarian officials.
"Joint drills and training at Novo Selo training range will be increased this year. The US army troops will be rotated for the drills," the defense ministry said as cited by Reuters.
On Tuesday, tanks and hardware accompanied by another 500 American troops arrived in Romania.
The deployment is part of Atlantic Resolve, the operation to reassure NATO's allies in the region following Russia's reunion with Crimea and accusations of Moscow being involved in the Ukrainian conflict.
Russia has denied the claims.
Last summer, NATO members agreed to boost its NATO presence in Eastern Europe and the Baltic region to levels not seen since the Cold War - posting four rotating multinational battalions to Estonia, Latvia, Lithuania, and Poland.
In January, 2,800 pieces of US military hardware, including Abrams tanks, Paladin artillery, and Bradley fighting vehicles, and 4,000 troops arrived in Europe as part of the operation.
READ MORE: Spain plans to send 6 tanks & 350 troops to Latvia as part of NATO buildup – reports
The forces took part in drills in Poland and were then deployed across seven countries, including the Baltic States, Bulgaria, Romania, and Germany.
American troop deployment accelerated in the last months of the President Barack Obama's presidency as his successor, Donald Trump, announced plans of mending relations with Moscow.
However, Trump's rhetoric towards Russia has changed since he took office, with White House spokesman, Sean Spicer, saying on Tuesday that the new president "expects the Russian government to de-escalate violence in Ukraine and return Crimea" to Kiev.
READ MORE: 'No incidents over Black Sea': Russian MoD denies 'unprofessional & unsafe' flyby of USS Porter
On Wednesday, the new US Defense Secretary, James Mattis, who was on his first European visit, warned NATO allies that America will "moderate its commitment" to the alliance if other members don't increase their financial contribution.
"No longer can the American taxpayer carry a disproportionate share of the defense of western values," Mattis said.
But the Defense Secretary assured President Trump's "strong support" for NATO, calling the block "a fundamental bedrock for the United States and for all the transatlantic community."
Moscow has criticized the expansive NATO military buildup on its borders, saying it increases the risk of incidents and poses a threat to Russian national security.
"This deployment is, of course, a threat for us," Russian Deputy Foreign Minister Aleksey Meshkov said last week, adding that "it is obvious that the steps by NATO gravely increase the risk of incidents."
You can share this story on social media: