Migrants should be given voting right before naturalization - German Commissioner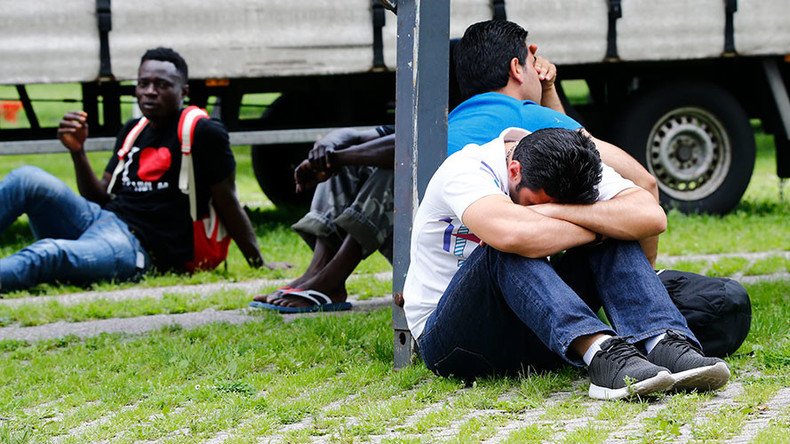 Non-naturalized migrants should be granted limited electoral rights, according to a migration policy paper, drafted by an expert panel led by the German government's commissioner on migration, Aydan Oezoguz.
The 50-page concept proposes a series of reforms aimed at making it easier for migrants from non-EU countries to settle in Germany as well as at giving them access to the German labor market and political system.
The paper says that Germany has to face the new reality of becoming "a country of immigrants," like the US. It urges people to regard migration as something "normal," which is an indispensable part of the globalized world.
The authors of the paper urge the government to grant migrants from non-EU states, who have not yet obtained German citizenship, a right to vote in local elections. Giving "people, who live in a country for a long time, a right to participate in the democratic process of decision-making in this country is a part of the principle of democracy," the paper says.
It goes on to say that non-EU migrants, who live in Germany for a long time, should be entitled to taking part in referendums, as it is only right to give them an opportunity to influence the decisions that directly affect their lives.
"We can only reach a good level of co-existence, when all [members of our society] will be able to take part in political, economic and cultural life of Germany," Oezoguz said as she presented the concept in Berlin on Tuesday.
Oezoguz, who is of Turkish origin, also suggested reducing the length of prior residency required for citizenship, easing the naturalization procedures and expanding the right for dual citizenship.
According to current German law, migrants have a right to apply for German citizenship after they have lived in Germany for eight years assuming that they have a sufficient knowledge of German, have no criminal record and have a stable income. The new concept suggests that the waiting period should be reduced to at least five years.
It also advocates lowering the income levels needed for foreigners to obtain work permits and exercising greater flexibility in granting people permission to come to Germany.
Those, who failed to receive full refugee status but still have a right to live in Germany on "tolerated stay" as their country is deemed unsafe to send them back, should also be offered "realistic opportunities to stay" in Germany.
Activist associations should also be allowed to file lawsuits on migrants' behalf in case of perceived unjust treatment while employers are advised to introduce "ethnically blind" job application procedures.
Co-author of the paper, Farhad Dilmaghani, from the migrant advocacy group DeutschPlus praised the concept as the first such document, which has been drafted in cooperation with people of migrant origin. "The debates about the German 'leading culture' [debates on integration and migrants] have always been a discussion… about us but not with us," he said, as cited by the German Merkur newspaper.
However, the Integration Commissioner of German Chancellor Angela Merkel's Christian Democratic Union faction in the German parliament, Cemile Giousouf, denounced the proposed concept by calling it "more a phantom than guidance."
She pointed out that the concept absolutely disregards such issues as "personal responsibility of migrants" and the rule of law. "The expert panel failed to come to a unified position in the most controversial issues, such as job quotas and positive discrimination," she told German ARD broadcaster.
The right-wing AfD party leader, Frauke Petry, criticized the idea of giving voting rights to non-naturalized migrants as "reckless."
"The members of the expert panel were actually absolutely right, when they stated that our constriction as well as an order based on freedom and democracy are the key pillars of our society – the society that they call 'an immigrant one'," she said, adding, that a person should first accept the key values of the host nation to be granted a right to take part in its political and social life.
"The opposite way is a mistake," she argued, adding that Germany cannot just leave the floodgates of migration open and let millions of people proceed to Germany without any checks while providing them with opportunities for 'participation'.
"A person earns the civil rights, they are not just a gift," Petry added. She went on to accuse Oezoguz, who is also the deputy head of the Social Democratic Party of an attempt to "create millions new voters just with a wave of the hand."
She also said that Oezoguz apparently wants to make uncontrolled migration to Germany "irreversible.""Instead of sending those migrants, who have no right to stay in Germany, to their countries of origin, we are supposed to roll the red carpet to welcome them, grant them voting rights and a German passport," she said, giving her interpretation of Oezoguz's proposals.
It is estimated that Germany took in up to 900,000 refugees in 2015 under Merkel's 'open door policy' and spurred repeated protests among the public and considerably boosted the popularity for the right-wing AfD party.
In early January, the EU statistics office, Eurostat, released a report which showed that Germany had processed around 420,000 asylum requests between January and September 2016 – more than the other 27 EU countries combined.
You can share this story on social media: