China eyes maiden flight of world's biggest amphibious plane after engine test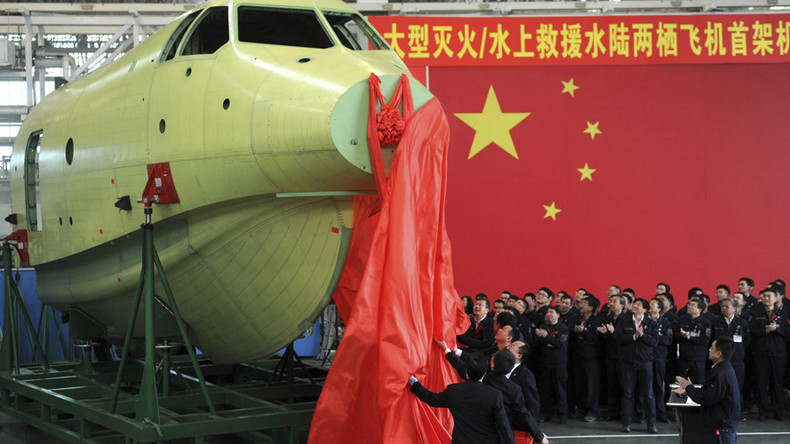 The AG600 – the world's largest amphibious aircraft – has successfully passed an engine test, bringing it one step closer to its maiden flight later this year, its Chinese producer announced. The main use of the plane will be fighting wildfires.
China Aviation Industry General Aircraft (CAIGA), a subsidiary of the state-owned Aviation Industry Corporation of China (AVIC), revealed the AG600 last year after seven years of development.
The latest engine test, which involved the simultaneous work of all four WJ-6 turboprops, is part of a comprehensive ground test which will lead to a maiden flight some time in first half of 2017, CAIGA said in a statement cited by Chinese media.
The AVIC AG600 is the Chinese counterpart to the Russian Beriev Be-200, which is best known for its use in fighting fires, but can also be used in maritime patrol or in search and rescue on the sea. The AG600 will also have a search and rescue version for 50 passengers.
The four-engine Chinese aircraft is nearly 37 meters in length, with a wingspan of 38.8 meters, and can carry 12 tons of water, according to the producer. The Russian plane features two turbofans, is 32 meters long and 32.8 meters wide, and can carry a similar amount of water. The AG600 will have a significantly greater range (5,500km) than the Beriev Be-200 (2,100km).
The aircraft has received 17 expressions of interest so far, the producer says.
You can share this story on social media: