Is it a boat? Is it a plane? China builds one of world's largest amphibious aircraft (VIDEOS)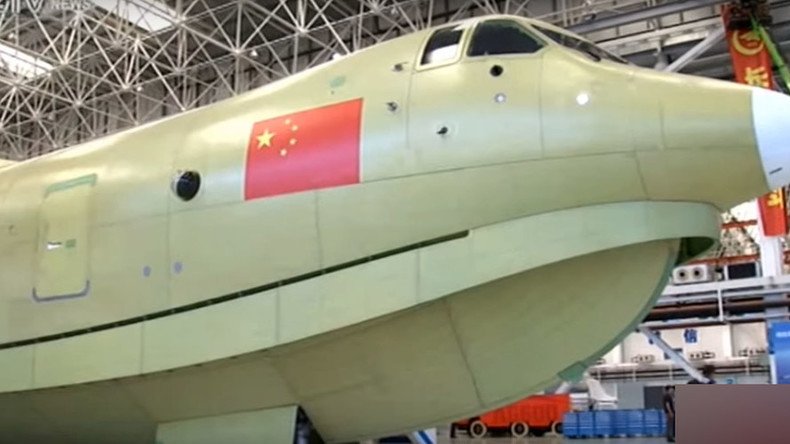 After seven years of construction China has unveiled the AG600, one of the world's largest amphibious aircraft.
Half boat and half airplane, the craft can take off at a staggering weight of 53 tonnes and can pick up 12 tonnes of water in an impressive 20 seconds.
Intended for marine missions and fighting forest fires, the AG600 was unveiled in Zhuhai in the southern Guangdong province on July 23. The plane – which can take off from land or water – is seen as an aviation "milestone" for the country, according to Xinhua News.
Testing is expected to commence in the coming months with its creators claiming it can travel non-stop for 4,500km (2,796 miles). This range might prove useful in China's bid for control of disputed islands in the South China Sea.
China rejected a ruling by the Hague-based Permanent Court of Arbitration earlier this month that they had no legal basis to claim the islands.
READ MORE: 'Selective approach:' China slams US statement on Hague Tribunal's South China Sea ruling
The AG600 is China's first homegrown amphibious craft and already has 17 orders, according to its creators. It also boasts of being able to rescue 50 people in a single trip.
State aircraft maker the Aviation Industry Corporation of China (AVIC) built the AG600. AVIC also built the Y-20, heavy transport aircraft capable of carrying over 60 tonnes of military equipment. Four hundred Y-20s are currently under construction for the Chinese military and are reported to be delivered in 2017.
AVIC's C919 is the country's first large passenger aircraft capable of carrying up to 168 passengers. Completed in November 2015 it is expected to begin operation in late 2016 or early 2017.
Last week, five people died after a seaplane crashed during a trial flight in Jinshan District. The Cessna 208B was intended for sightseeing tours before it crashed into a bridge shortly after take-off.
You can share this story on social media: