US sends admiral to launch massive Cobra Gold war games in Thailand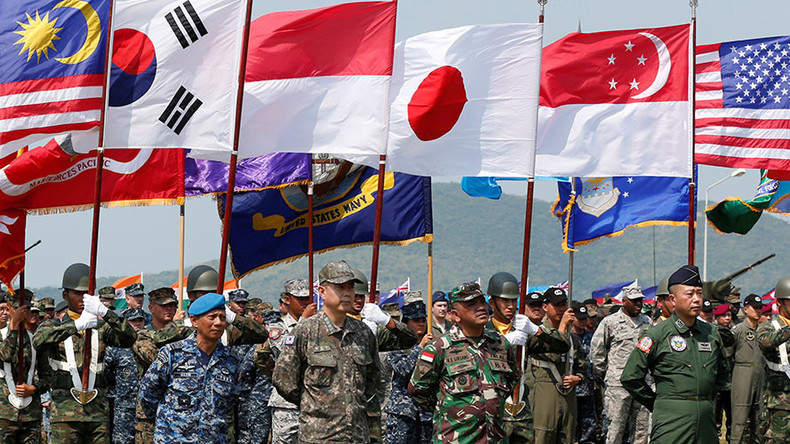 Admiral Harry Harris, the highest-ranking US military commander to visit Thailand since a coup in 2014 placed it under military rule, has arrived to launch a joint annual military exercise, the biggest of its kind in the region.
Harris, the chief of US Pacific Command, launched the Cobra Gold exercise at a ceremony at the Sattahip Royal Thai Marine Corps on Tuesday. The multinational drill involves 29 nations, although only the US and hosting Thailand have significant forces involved – some 3,600 and 4,350 respectively.
Japan, Singapore, Indonesia, South Korea, Malaysia, India and China sent smaller delegations, with Beijing participating only in one of the three planned phases, the civilian assistance exercise. The Chinese military were first invited to the Cobra Gold exercise in 2015.
The scale of the event is still a far cry from the years preceding the 2014 military coup in Thailand. The US responded to the change of the Thai government by reducing its presence at Cobra Gold from over 8,000 in 2014 to about 3,700 in consequent years and cutting US military assistance to Bangkok. Last year Ambassador Glyn T. Davies attended the opening ceremony of the exercise.
Speaking at the opening ceremony alongside Harris, Davies called the exercise "the crown jewel of our enduring bilateral alliance and a symbol of America's unwavering commitment to the peace and prosperity of both the kingdom and the region."
"We stand with the Kingdom of Thailand as we have for 10 generations," he said as cited by the Straits Times. "We look forward to Thailand's return to (a) strengthened sustainable democratic system so the country and our alliance can reach its full potential."
Bangkok has so far declined to schedule democratic elections and return the reins of power to a civilian government.
Ahead of the exercise, the Thai government said it didn't want to speculate on whether the presence of a senior US military official this year marked a change of attitude in Washington.
Cobra Gold war games have been held since 1982 and are traditionally focused on three elements – a joint combat exercise involving amphibious troops, a seminar for senior commanders and a humanitarian relief exercise.
You can share this story on social media: