US calls for collective action to hold N. Korea 'accountable' for ballistic missile test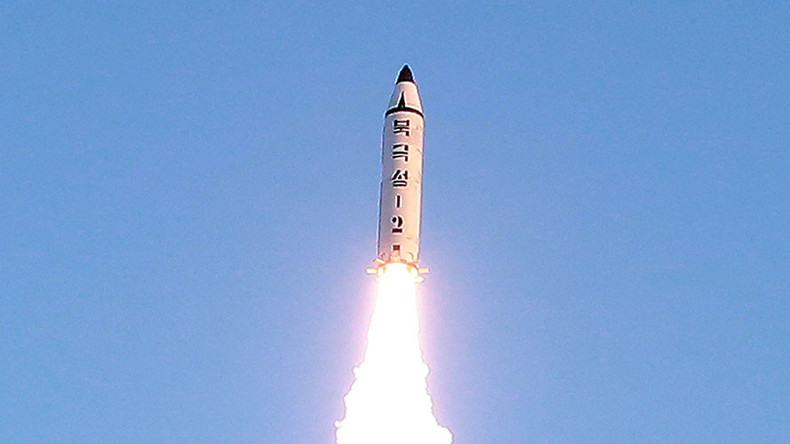 Washington has called for a collective action in response to North Korea's latest ballistic missile test. Pyongyang considers its nuclear and missile programs necessary for protecting itself from the US.
"All efforts to advance North Korea's nuclear weapons and ballistic missile capabilities must cease," said Robert Wood, US Ambassador to the Conference on Disarmament.
"If ever there were a situation that called for international collective action to ensure our mutual security, it is this," Wood said as cited by Reuters.
Donald Trump denounced the missile launch at a press conference on Monday.
"Obviously North Korea is a big, big problem and we will deal with that very strongly," he said.
North Korea reported test firing a new Pukguksong-2 ballistic missile on Sunday, hailing it as a major achievement for its military. The solid-propellant rocket flew over 500 kilometers before landing in the sea, and successfully displayed the ability to perform evasive maneuvers, Pyongyang's official KCNA news agency said.
"The various test fires conducted by DPRK for building up self-defence capabilities are, with no exception, self-defence measures to protect national sovereignty and the safety of the people against direct threats by hostile forces," Han Tae Song, the Ambassador of the Democratic People's Republic of Korea (DPRK) to the UN said, addressing the UN-backed Conference on Disarmament.
The launch comes as North Korea is set to celebrate the birthday of its late leader Kim Jong-il, the father of current ruler Kim Jong-un. The date is a major holiday in the country.
READ MORE: N. Korean test missile flies 500km, lands in Sea of Japan
North Korea revoked its signature of the Nuclear Non-Proliferation Treaty in 2003 and announced its intention to build a nuclear arsenal, saying that it was necessary in order to defend itself from potential aggression by the US and its regional allies like South Korea and Japan. It is also developing rocket technology to make its deterrence more robust.
The UN Security Council has passed several resolutions condemning Pyongyang's nuclear and missile development, and has imposed economic sanctions to slow the programs down.
You can share this story on social media: