N. Korean test missile flies 500km, lands in Sea of Japan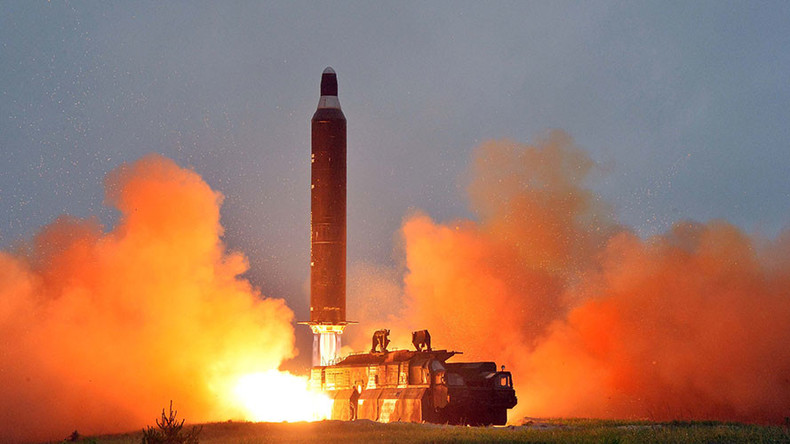 North Korea on Sunday launched a missile in the direction of Japan, South Korean and Pentagon officials have said. Although the projectile landed into the sea before reaching Japan's economic zone, it alarmed the military amid Pyongyang's claim of developing an ICBM.
"The flight distance was about 500 kilometres, and South Korea and the United States are conducting a close-up analysis on additional information," South Korea's Office of Joint Chiefs of Staff said in a statement.
"US Strategic Command systems detected and tracked what we assess was a North Korean missile launch at 4:55 p.m. CST...The missile was tracked over North Korea and into the Sea of Japan," the Pentagon said as quoted by Reuters. It added that the launch never posed a threat to the US, calling the projectile "a medium- or intermediate-range ballistic missile."
South Korean military earlier said that the missile "appears not be an ICBM in terms of range," as cited by Yonhap news agency. Kim Jong Un said Pyongyang was preparing to test a new intercontinental ballistic missile in his New Year speech.
The suspected missile type is Hwasong-10, or Musudan intermediate-range ballistic missile, which has a range of 3,000 kilometers.
"Our assessment is that it is part of a show of force in response to the new US administration's hardline position against the North," the military said.
South Korean Prime Minister Hwang Kyo-ahn, who is also currently the country's acting president, has vowed to "punish" the North for its latest missile launch. South Korea "is doing its best to ensure a corresponding response to punish the North" in coordination with the international community, he said, as cited by Yonhap.
In the meantime, the country's presidential security director, Kim Kwan Jin, discussed the issue with President Donald Trump's national security adviser, Michael Flynn, during a phone call, according to the South Korean president's office. The two officials strongly condemned the launch and agreed to use all possible means to prevent further North Korean provocations.
The launch comes just a day after a meeting between US President Donald Trump and Japanese PM Shinzo Abe, during which Trump emphasized US military support for Japan, calling their alliance "a cornerstone of peace, prosperity, and freedom" in a joint statement.
The leaders also pledged to exert joint pressure on North Korea, "strongly" urging it to scrap the nuclear and ballistic missile programs and "not take any further provocative actions."
Trump's administration was expecting the "provocation" to take place, and is now mulling a response, a source told Reuters.
"This was no surprise. The North Korean leader likes to draw attention at times like this," the unnamed source said, adding that new sanctions on Pyongyang, an increased presence of the US Navy and Air Force in the region, or an indirect attempt to pressure North Korea into stopping the tests are being considered.
Reportedly, Trump could attempt to "step up pressure on China" to end the tests, the official said.
Meanwhile, Abe said the launch was "absolutely unacceptable." He spoke at a joint news conference with Trump, who added that the US is "behind Japan, our great ally, 100 percent."
On January 1, Kim Jong-un said that "research and development of cutting edge arms equipment is actively progressing and ICBM rocket test launch preparation is in its last stage."
This prompted a response from then-US President-elect Trump.
"North Korea just stated that it is in the final stages of developing a nuclear weapon capable of reaching parts of the U.S. It won't happen!" Trump tweeted at the time.
North Korea has repeatedly claimed it was close to developing an intercontinental ballistic missile able to carry a nuclear warhead as far as the West Coast of the US. Despite frequent launch failures and absence of evidence Pyongyang's missiles were getting close to such a capability, Washington has been closely following the development with concern.
The last time North Korea claimed to have launched a long-range ballistic missile, it was hit by a new round of sanctions by the UNSC. Following the launch of a satellite on February 7, 2015, that was preceded by the country's fourth nuclear test on January 6, the UNSC adopted Resolution 2270. The document further restricted trade with North Korea, envisioning mandatory inspection of all cargo leaving or entering the North Korean territory. All imports and transfers of small arms and light weapons to the country were also blocked.
You can share this story on social media: