Ships from 4 NATO countries conduct naval drills in Black Sea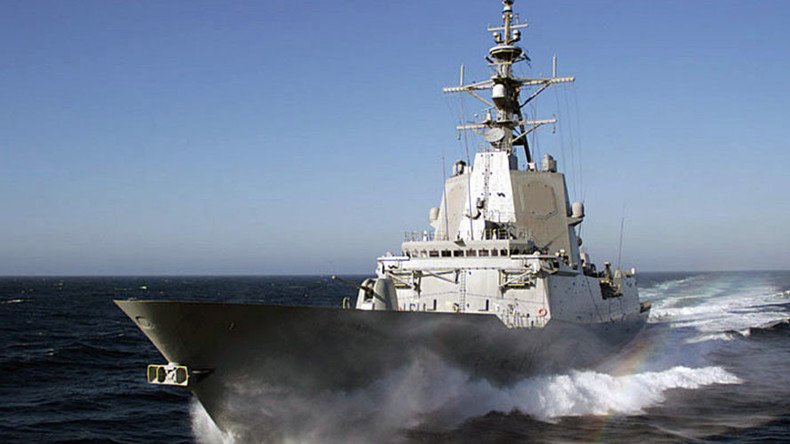 Ships from four NATO member states – Canada, Spain, Romania, and Bulgaria – have taken part in PASSEX 2017, a joint military exercise in the Black Sea.
The exercise features "tactical maneuvering, air defense, repelling asymmetric attacks from an enemy above water, delivery of cargo by helicopter, and other maneuvers," TASS reports, citing a statement from the Bulgarian Ministry of Defense press service.
According to military authorities, two frigates from the NATO Permanent On Call Joint Maritime Battle Force – Canadian Navy frigate St. John's and Spanish Navy frigate Almirante Juan de Borbón, a frigate from Romania, Bulgarian corvette Reshitelni, and a special unit of Bulgarian Naval intelligence – have entered the port of Varna, Bulgaria to take part in the PASSEX 2017 drills.
The Canadian and Spanish vessels participated before in the Romanian-led Sea Shield 2017 exercise in the Black Sea, Bulgarian military website Pan.bg reported. The Sea Shield drills took place February 1-10. The naval drills involved 16 warships and 10 warplanes. The exercises were held in the eastern part of the Black Sea, not far from the Russian border.
Russian Defense Minister Sergey Shoigu said Moscow was keeping an eye on the Sea Shield drills: "At present, we are watching and monitoring everything that is happening there."
"We hope that the exercise will be conducted in the safest possible environment, without any challenges to Russia. In any case, we are ready to take on these challenges," he added.
On January 31, US and Polish soldiers, alongside newly delivered American military hardware, also conducted joint drills in what has been described as the biggest US deployment in Europe since the end of the Cold War.
Moscow has repeatedly voiced concerns over NATO's military activity by its border.
"These actions threaten our interests, our security," Russian President Vladimir Putin's spokesman Dmitry Peskov said earlier this month. "Especially as it concerns a third party building up its military presence near our borders."
In response, Russia stationed its most modern weaponry and armaments in its western regions, including the exclave of Kaliningrad, which shares a border with Poland and Lithuania, and is carrying out large-scale military drills on its home soil.
Elsa Rassbach, of the War Resisters International German affiliate and Code Pink, told RT that NATO's war games and rotational deployments negatively affect the overall security situation in Europe.
"I think they have a very negative impact, in particular actually, in those countries that are nearer to the Russian border. Any error, many things could happen that could lead out of these exercises to a real conflict. But the security of all of Europe is threatened, and this is one reason why so many people in Germany are hopeful that there will be peace made with Russia and are very fearful that a war could develop out these kinds of exercises, which seems to indicate a willingness to go to war by the US and NATO, unfortunately."
READ MORE: 'NATO exercises on Russia border part of US buildup of empire '
Nearly 70 percent of Russians currently view NATO as a threat, a new survey from Gallup has showed. It is the highest number recorded since 2008.
Eastern European countries that see NATO as a source of protection are mostly members of the alliance. In Poland, 62 percent see NATO as their protector. Estonia, with 52 percent backing NATO, is hosting 800 NATO personnel, while Romania, where 50 percent approve of NATO, is expected to receive several Royal Air Force Typhoon jets in 2017.
You can share this story on social media: