Happy haul: Dutch police seize ingredients enough to make 1 bn ecstasy pills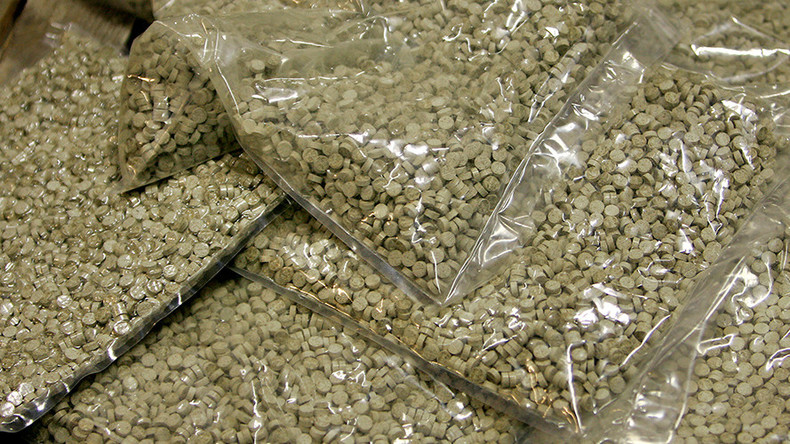 Dutch police have seized materials that could make as many as 1 billion ecstasy pills in a stolen truck near the Belgian border on Thursday. Three men were arrested at the scene.
READ MORE: 'Brain-sticky' trait of LSD may be key to treating depression, schizophrenia – research
Police found 100 canisters of hydrogen, 15 tons of caustic soda and 3,000 litres of other chemicals that were worth several thousand euros alone.
"The chemicals are believed to be intended for the manufacture of narcotics," the police said on Twitter. If used to make ecstasy pills, the street value of the resulting drugs would be at least €5 billion.
Officers spotted the "suspicious" looking car in an industrial estate in Nieuwegein, in the village of Rilland, in the southern province of Zeeland, about 80 km (50 miles) south of Rotterdam and 40 km (25 miles) north of Antwerp.
Ecstasy is a colloquial name for 3,4-Methylenedioxymethamphetamine, or MDMA, which is a psychoactive drug increasing empathy and sensation, and suppressing thirst and hunger, which has made it popular at dance parties and raves since 1970s. The oft-cited dangers of its use at parties include exhaustion and dehydration, which can lead to death.
Ecstasy is illegal and listed under controlled substances in most world countries.
The Netherlands and Belgium are leading ecstasy and amphetamine producers, and despite anti-drug efforts, the Dutch have repeatedly been blamed for the spread of MDMA in UN reports. Rotterdam and Antwerp are both port towns from where drugs are smuggled across Europe.
READ MORE: 'Big mistake': Florida heroin bust reveals bags stamped with Donald Trump's face (PHOTOS)
You can share this story on social media: