'Unacceptable for a Christian': Italian 'orgy & pimping' priest faces defrocking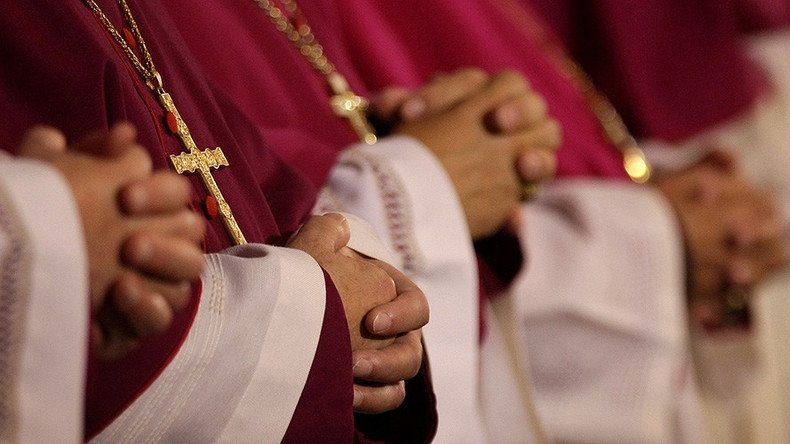 An Italian Catholic priest – who is at the center of a scandal alleging he staged orgies, had up to 30 lovers and produced home porn videos – will most likely lose his job regardless of an investigation's findings, the Bishop of Padua said.
The scandal involving Father Andrea Contin, a 48-year-old priest at the church of San Lazzaro in Padua, broke in December 2016. Since then media have released some very unholy details of his clerical life.
"I am incredulous and pained by the accusations [against Contin]," Padua's bishop, Claudio Cipolla, said at a press conference on Thursday, as cited by the Local. He added that his position was like "a father of a son who has fallen into disgrace."
"Even if, at the end of this affair, there are no legal consequences, we have a duty by canon law to take disciplinary action," he said, adding that Pope Francis has been informed about the affair.
The Bishop has been traveling to diocesan missions in Latin America, but had to return earlier than initially planned "since the widening of the Paduan events, to address more directly the situation," according to Italian media. In early January it was reported that the priest had been suspended from his clerical duties pending the investigation.
The decision to defrock the priest was not the result of the hype in the media, which were releasing new details of Contin's orgies, but the result of "direct investigation and verification that these events mean Don Contin is not fit to carry out his mission [of priesthood]," even if the priest repents, Cipolla said.
Contin's actions are "unacceptable for a priest, for a Christian and even for a man," he said, adding that Catholic priests take a vow of celibacy, which is done "at an adult age, when we have control of our choices, in order to best serve our communities."
In the meantime, another priest, Father Roberto Cavazzana, who admitted to taking part in and "occasionally" filming orgies, will likely retain his position. Cavazzana's case is "different," since "his involvement was only partial and occasional – though not acceptable for a priest," Cipolla said.
'Briefcase full of vibrators, sex toys & masks'
Meanwhile, media keep releasing new details about the priest's activities. In January, one of the priest's alleged sexual partners, a woman, told Italian media that he "always carried a briefcase full of vibrators, sex toys, masks and bondage equipment," the Local reported.
One woman said that Contin encouraged her to have sex with a horse in addition to beating her in the rectory on several occasions.
The priest reportedly had up to 30 lovers, according to Italian media. With some of his female partners he allegedly traveled on vacations. One such trip was to a French resort for nudists and swingers in the town of Cap d'Agde.
A 49-year-old church volunteer told Il Mattino di Padova newspaper in early January that the two were having sex in the rectory "at all hours: morning, afternoon, night."
"There were a lot of women hovering around him," she told the newspaper.
You can share this story on social media: