Germans consider US as reliable a partner as Russia – poll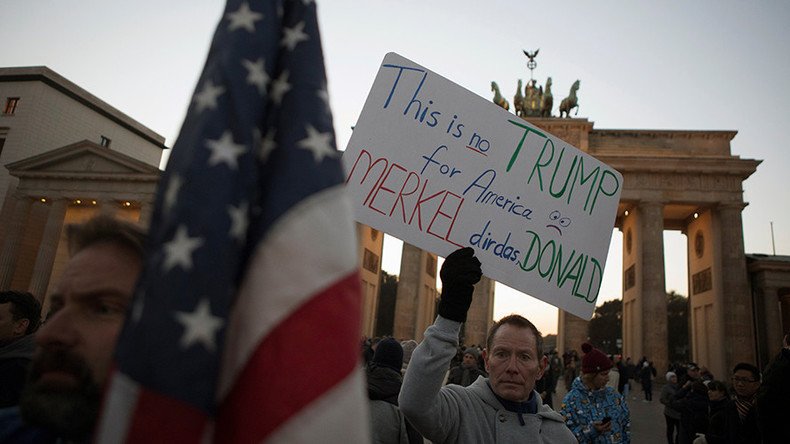 Less than a quarter of Germans consider the US, under Donald Trump's leadership, to be a reliable partner their country can trust according to a recent survey. Roughly the same number of respondents believe Germany can cooperate with Russia.
The Infratest dimap study reveals that German public trust in the US has dived to a record low, with only 22 percent of Germans supporting Trump's policies, just two weeks after the Republican assumed office, Der Welt reports.
The new figures represent a 37 percent drop of trust compared to a similar poll conducted just before the US presidential election. In November 2016, 59 percent of Germans trusted the US compared to 22 percent now.
The new survey also placed German confidence in Russia on almost the same level with the US. Only 21 percent of responders said they believe Russia to be a reliable partner. While also low, that number is nothing compared to the distrust towards Turkey, which has the miserly support of only four percent of Germans.
Looking at German attitudes towards President Trump, 80 percent of the respondents in February said the European Union must combine efforts and unite against his administration. More than two-thirds said they are worried that the German economy will suffer as a result of Trump's policies, and only 26 percent approved of the Republican's drive to implement his campaign promises.
Trump's uncompromising actions since taking power have made Germany and much of Europe very jittery. Germans are particularly concerned about Trump tearing up trade deals and his latest crack down on immigration from seven mainly Muslim countries. Doubts over his engagement with the EU follow his questioning of the validity of the NATO alliance has also ushered in much unease.
Trump and his team have also attacked Chancellor's Angela's Merkel's policies. Last month, Trump said Merkel made a "catastrophic mistake" with her so called 'open-door' migration policy. This week, his top trade adviser said Germany was using a "grossly undervalued" euro to gain an advantage over the US and its European partners.
Similar concerns among the German public about Trump's leadership were found in an Emnid poll conducted for the N24 broadcaster. In that study, only three percent of Germans believed that bilateral relations would improve with Trump in power, while three-quarters of respondents said it would get worse. Only 16 percent said that German - US relations would remain the same.
In addition, the Emnid poll discovered that two-thirds of respondents found Trump's implementation of election promises through the use of executive orders to be undemocratic. Furthermore, eight out of ten Germans said the travel ban for people from Muslim-majority countries was damaging for the US, with 85 percent believing Trump's policies would harm the US economy.
You can share this story on social media: