'Quite surprising' that US slapped close ally & terrorism victim with travel ban – Iraqi FM to RT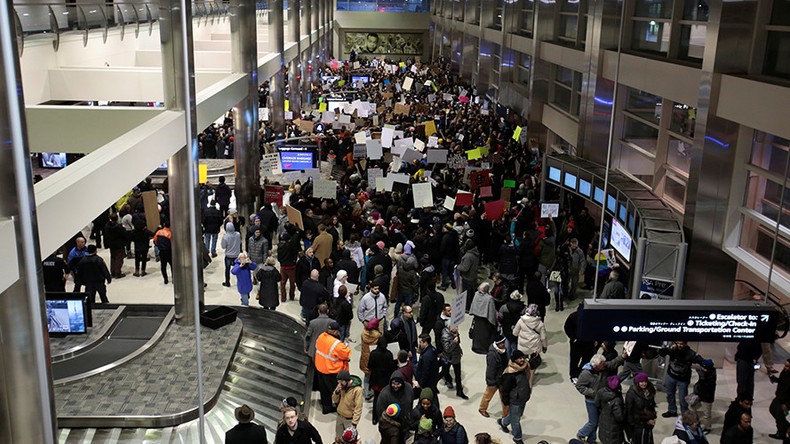 The US travel ban on Iraqi citizens – dismissing all US-Iraqi cooperation in fighting terrorism – was "premature and misled," the Iraqi FM has said, adding that Baghdad will adopt a carefully considered response.
Iraq's Foreign Minister Ibrahim al-Jaafari told RT Arabic in an exclusive interview that his country won't rush into an immediate response as it prefers to take counter-measures without "haste and emotions."
The decision of Donald Trump to ban citizens of Iraq, alongside with several other Muslim-majority countries, from entering the US was quite surprising and confusing for the Iraqi government, al-Jaafari said
"I don't know what was the starting point which led to such decision," al-Jaafari said.
The travel restrictions appear inconsistent with the situation in the country, where Iraqi forces alongside US military advisors are battling Islamic State (IS, formerly ISIS/ISIL), and could be a result of some "bad data" provided by "some advisor."
"If the raw data was correct, then the result would be right. If we see wrong results, it means the raw data was misleading from the very beginning. Maybe an advisor provided misleading information or some conflict emerged," al-Jaafari told RT.
While the controversial decision was unlikely a simple "mistake," it was quite hard for the Iraqi authorities to understand the reasons behind it, as Iraq not only actively battles international terrorism but had "suffered the most from terrorism" in the past.
READ MORE: Iran to impose restrictions on US individuals, entities in retaliation for new US sanctions
Years of cooperation between Iraq and the US was disregarded by those who adopted this measure, al-Jaafari believes.
"We had a meeting with the US Ambassador in Baghdad and presented him the Iraqi position," al-Jaafari said. "It was quite surprising for us that Iraq, a victim of terrorism, was categorized in such fashion, despite the closest US-Iraqi cooperation, presence of US military advisors and the framework of our strategic cooperation. All these factors were disregarded, and I still can't understand what was used to justify such position. I believe the decision was premature and misled, regardless of whom made it."
It's not a time for a hot-headed response, though, and Trump's restrictions should be thoroughly studied "before making any decision or taking any stance." But "mirror" countermeasures are definitely out of question at the moment, according to the Iraqi foreign minister.
"We won't adopt the same countermeasures. Iraq is a constitutional state, we have our government and parliament. We have separation of powers," al-Jaafari said. "Every situation is thoroughly studied. A decision cannot be adopted immediately and easily."
"A state like the US should better act in a similar manner. We won't act like that and won't take any snap moves. We'll carefully study this issue and then adopt corresponding counter-measures, without haste and emotions."
Meanwhile, a federal judge in Seattle granted a nationwide temporary restraining order on enforcing President Trump's immigration ban.
President Trump issued an executive order that banned citizens from Iran, Iraq, Libya, Somalia, Sudan, Syria, and Yemen from entering the US last Friday. The controversial ban sparked mass protests across the US and has resulted in confusion and deportations.
You can share this story on social media: