Quebec mosque shooting: Canada has Fox News delete false tweet, fails to press terrorism charges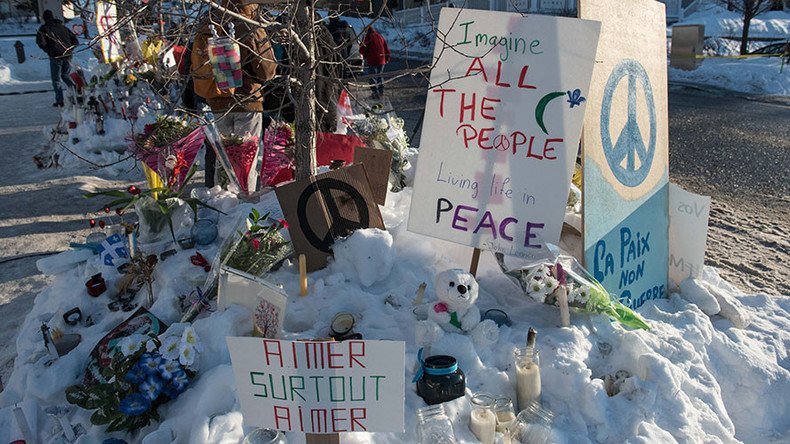 Canada has pressured Fox News to delete a tweet falsely reporting the Moroccan origin of the perpetrator in the Quebec City mosque shooting. However, the suspected French-Canadian gunman of the "terrorist attack on Muslims" was not charged with terrorism.
The US news network apologized for publishing the tweet, which identified the suspect in the January 29 night attack as a man of Moroccan origin.
"FoxNews.com initially corrected the misreported information with a tweet and an update to the story on Monday. The earlier tweets have now been deleted," Refet Kaplan, managing director at FoxNews.com, said in a statement. "We regret the error."
The move came hours after the office of Canadian Prime Minister Justin Trudeau sent Fox News a letter that called the tweet "dishonored the memory of the six victims" killed during a prayer at the Quebec City Islamic cultural center. Another 19 people were injured in the shooting, with two of them remaining in critical condition as of Tuesday.
The confusion may be explained by the fact that the Canadian police arrested two men in the wake of the attack, one of whom was a Moroccan-born Quebecer. However, on Monday they reported that the attack involved a "lone wolf" shooter and that the Moroccan-born man had been released. The man turned out to be one of the worshipers, who called 911 after hearing gunshots and went inside to help, as he told the media.
Fox News apparently misread the clarification and reported that the man remaining in custody was of Moroccan origin. The inaccurate tweet sparked anger among many commenters on Twitter, who accused the news channel of fearmongering and playing to the perception of Muslims as a terrorist threat.
Meanwhile the suspect in the shooting, French-Canadian Alexandre Bissonnette, was described by the Canadian media as a "right-wing troll", "anti-foreigner" and "anti-feminist," based on his online footprint and the words of his acquaintances.
The letter penned by Kate Purchase, Trudeau's director of communications, voiced concerns over an anti-Muslim message, which some saw in the Fox News tweet.
"We are a nation of millions of immigrants and refugees, of hundreds of cultures, languages, and religions bound by one, unwavering, unshakable belief: we are stronger not in spite of our differences, but because of them," it said.
Ironically, even though Trudeau described the shooting as a "terrorist attack on Muslims," terrorism is not among the 11 charges Bissonnette is facing. Instead he has been charged with six counts of first-degree murder and five of attempted murder.
The unwillingness to press terrorism charges against the alleged murderer, which would make the job of the prosecutor during the trial harder, may be understandable. Nevertheless, some people criticized the reluctance, saying that Bissonnette not being a Muslim may have been a factor.
You can share this story on social media: