Police believe Quebec mosque shooting a 'lone wolf' attack, only one man in custody - reports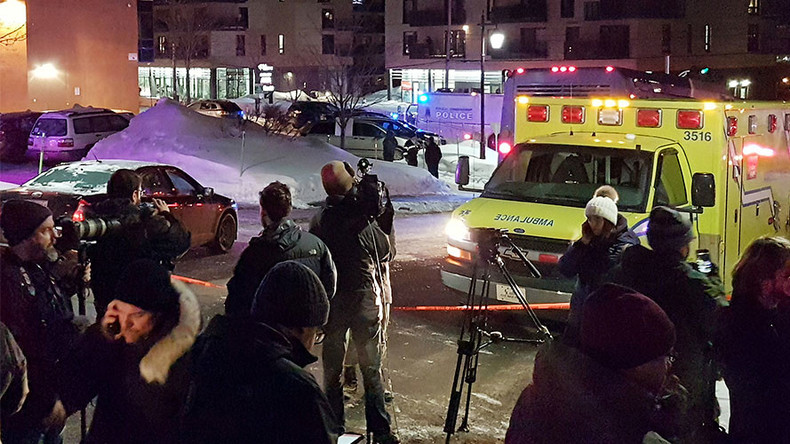 Canadian police say a single man - reported by the media as student Alexander Bissonnette - remains in custody over Sunday's mosque shooting in Quebec City, in which six people died, and 19 were injured. The other man previously labeled a suspect, named as Mohammed Belkhadir, has been released.
Belkhadir, who is of Moroccan origin, is now being treated as a witness by the investigators.
Bissonnette, a politics student at Laval University, called 911 shortly after the attack, which took place during evening prayers at 8 p.m. and told dispatch that he felt guilty and was going to commit suicide.
"He was armed and spoke to us about his acts, he seemed to want to co-operate …The suspect said he was waiting for the police to arrive," Quebec City police Inspector Denis Turcotte said.
However, a police chase ensued, in which the suspect led officers to a bridge 20 km east of the city, before giving himself up. Officers found a weapon inside the vehicle.
"They [police] consider this a lone wolf situation," a source close to the investigation told Reuters.
Belkhadir, whose surname had also been reported as Khadir and El Khadir, was arrested near the scene of the shooting.
Bissonnette's house was searched by the police overnight. His Facebook page, which has since been deleted, showed that he followed the pages of Donald Trump, and French nationalist politician Marine Le Pen.
The victims ranged from 35 to 60 years of age, according to Quebec provincial police Sgt. Christine Coulombe. Fourteen of the wounded have been released from hospital. Five remain in critical condition, three of whom are in intensive care, according to a hospital spokesperson cited by CBC.
Prime Minister Justin Trudeau called the shooting a "terrorist attack on Muslims in a centre of worship and refuge" early Monday.
"Muslim-Canadians are an important part of our national fabric, and these senseless acts have no place in our communities, cities and country," he said in a statement.
Tonight, Canadians grieve for those killed in a cowardly attack on a mosque in Quebec City. My thoughts are with victims & their families.

— Justin Trudeau (@JustinTrudeau) 30 января 2017 г.
Quebec Premier Philippe Couillard also said the shooting should be treated as a hate crime.
"It's a murderous act directed at a specific community," he said at a news conference. "I think the majority of citizens, not just in Quebec but elsewhere, would describe it that way."
Couillard said there will be solidarity rallies across Quebec on Monday.
Anti-Muslim acts have been on the rise in Canada, with several minor incidents reported in Quebec over the past year. A Montreal mosque and a Muslim community center in Sept-Îles were damaged in separate arson attacks in December, while the head of the Association of Muslims and Arabs for a Secular Quebec received online death threats just one month prior.
The Sunday attack also came as US President Donald Trump issued an executive order banning citizens of seven mainly Muslim countries from entering the United States prompting worldwide protests.
You can share this story on social media: