Russia to take tit-for-tat measures if MSM acts to limit RT broadcast in US – telecom watchdog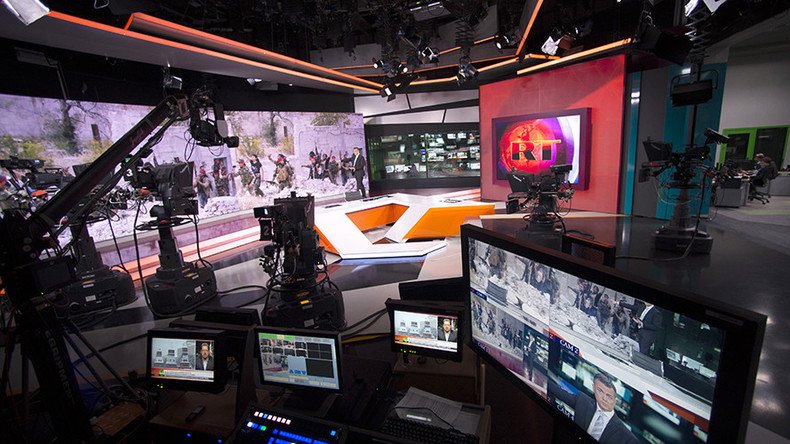 Moscow has warned it will take relevant reciprocal measures should the US MSM attempt to limit RT's broadcasting; emphasizing US media pressure on RT's partners will not be tolerated, the head of Russia's media watchdog, Roskomnadzor has said.
"The US mainstream [media] are trying to bring pressure on those, who cooperate with the Russian RT Channel," Aleksandr Zharov, told Russian journalists, stressing that "it is cynical and immoral" practice.
Zharov's angry reaction was provoked by a series of articles that appeared in the US media in late January.
He particularly singled out the Wall Street Journal which "throws sand in the wheels" of RT in the US, where the Russian channel already regularly faces "immense pressure."
On January 25, the Wall Street Journal published a piece titled 'RT Channel's Unique Carriage Deals Make It Difficult to Drop in US', in which it claimed US "federal law prevents many [operators] from ceasing to carry the channel, even if they want to," implying this situation should be changed.
He also said The Atlantic came up with the idea of "suppressing the circulation of links to the news stories" provided by "state-sponsored outlets like RT."
"If such pressure leads to the restriction of RT's broadcasting in the US, we will have to take tit-for-tat measures," Zharov told the RIA news agency.
The Atlantic went even further in its article, "Kremlin-Sponsored News Does Really Well on Google", and suggested tech companies such as Google and Facebook should rank or even suppress the circulation of links to news stories provided by RT, as the Russian "state-sponsored outlet" allegedly belongs to a "category of often-misleading news sources that seems to have escaped the notice of tech companies."
The US media also complained that "RT stories regularly appear toward the top of Google search results" while "Google searches for … political issues also turn up plenty of RT content."
The US media also continue to claim that RT is something totally insignificant as they whip up hysteria about the Russian channel swallowing up significant chunks of the western news landscape.
The Atlantic particularly drew from a piece published by the Economist, in which the British-based media outlet claimed RT "routinely inflates the size of its TV audience." This Economist article has already been exposed as inaccurate by RT.
The pressure the west exerts on RT is not limited to smear campaigns in the media, however. In October last year, NatWest, a subsidiary of the Royal Bank of Scotland Group (RBS), gave notice it would close the broadcaster's accounts by December following a 10-year relationship.
No explanation was provided. The letter said the decision was final and that it was "not prepared to enter into any discussion in relation to it." The decision ignited a social media storm from outraged readers, viewers, members of the public and prominent public figures who questioned Britain's "freedom of the press."
The bank eventually scrapped its plan and agreed to continue the relationship with RT in January.
RT has also been denied access to the Twitter-based news-breaking service Dataminr - following another US media campaign - during which RT was accused of somehow passing on information from Twitter to Russian special services.
Facebook also briefly stripped RT of its right to share content such as as live streams, images and videos, apparently linked to what it claimed a 'live-streaming rights violation' following RT's broadcast of Barack Obama's final press conference as president.
Facebook restored RT's ability to post content to its page some 20 hours later. The Russian Foreign Ministry spokeswoman dubbed Facebook's actions "unacceptable." It might have been either a form of censorship or an "instrument of competitive struggle," Maria Zakharova said at that time.
You can share this story on social media: