'Hard to expect a better start': Russian lawmakers & economists optimistic after Putin-Trump call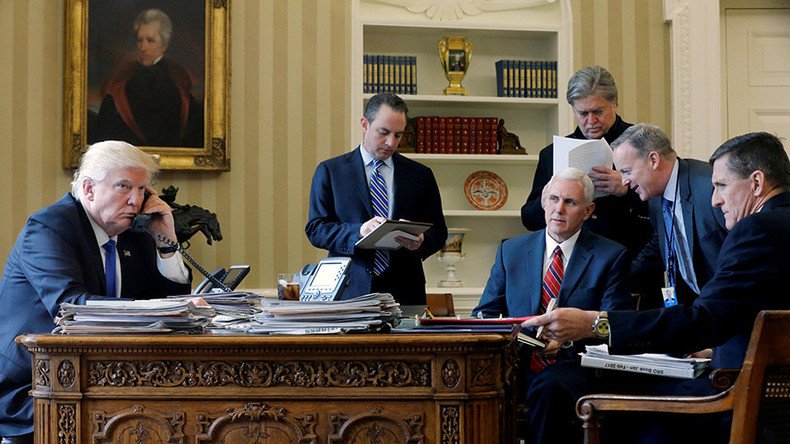 Hopes of a looming thaw in Russia-US relations seemed to be a prevailing mood among Russian officials following the phone conversation between presidents Vladimir Putin and Donald Trump, with many seeing it as a significant shift from the Obama administration's rhetoric and intransigence.
What appears to be Trump's readiness to treat Russia as an equal partner and also meet face to face with the Russian President sets the stage for a breakthrough in bilateral relations, believes Vyacheslav Nikonov, MP of the ruling United Russia party.

"It would be hard to imagine a better start. The mere range of issues and that constructive and positive tone…signals a possibility for thaw in the US-Russian relations and even for major changes," Nikonov said, as cited by the RIA Novosti.
The broad range of issues touched on by Putin and Trump means that US-Russia relations are regaining the substance which was lost under the Barack Obama administration, says Konstantin Kosachev, the head of the upper house's Committee for International Relations.

"This conversation was supposed to return meaning and content to the Russia-US dialog. It appears that this has happened," Kosachev told TASS.

Senator Franz Klintsevich, deputy head of Russia's Upper House committee for defense and security, was more cautious in his assessment, calling the phone conversation "a first step" to resolving the many issues between the countries that have been piling up in the recent years.
'Real' coalition against ISIS
The joint fight against international terrorism featured high on the agenda, with both Putin and Trump speaking in favor of tackling the threat together and establishing "real coordination" in the battle against Islamic State (IS, ISIS/ISIL) and other terrorist groups in Syria.
Nikolay Kovalev, the former head of Russia's Federal Security Service (FSB) and State Duma MP believes the first move on the way to practical cooperation, outlined in the conversation, should be "coordinating of efforts in Syria, joining forces, exchange of intelligence."

However, in order for the idea of a joint fight against terrorism to become a reality, Washington should stop arming rebels, Kovalev stressed, noting that the previous administration "channeled weapons and ammunition to the so-called peaceful opposition or units that supposedly did not have links to terrorists, but ultimately those weapons ended up in the hands of the terrorists."

Criticizing the Obama administration's refusal to share data, Kovalev expects that the situation will "change drastically" with Trump as US commander-in-chief.

Klintsevich believes that if Moscow and Washington indeed joined efforts against terrorism, "the days of Islamic State would literally be numbered."
Positive signal for business
The conversation between Putin and Trump may serve as the platform to mend economic ties between the countries, currently marred by tit-for-tat sanctions, Russian Direct Investment Fund CEO Kirill Dmitriev believes.
READ MORE: Trump: 'Very early' to speak of lifting Russian sanctions, amid speculation it could happen soon
"Focus on restoration of trade and economic cooperation is very important," he told RIA Novosti, adding that the way the meeting turned out is a "positive signal for business and investors and envisions possibility to restore cooperation between our countries, including in the sphere of investment."
Out-of-block thinking?
Trump has indicated he is going to take on a more pragmatic approach in foreign policy, in line with his promise to put American interests first, Vladimir Dzhabarov, first deputy chief of the Russian Federal Council's Foreign Affairs Committee said.

"During the conversation with Russian President Vladimir Putin, Trump did not for a single time mention the traditional US partners, the EU and NATO," Dzhabarov told RIA Novosti.
READ MORE: 'Theresa May seeks anti-Moscow NATO from Trump, but that's not in the cards'
Russian-EU relations have been strained over the crisis in Ukraine, while NATO troops have been reinforcing their presence on Russia's border with significant military support from Washington, citing perceived "Russian aggression," as their motivation.
This, as well as Russia's recent involvement in Syria in support of Damascus, has been markedly reflected in the rhetoric of the US administration under Obama, while the existing military and security cooperation agreements between Moscow and Washington has been scrapped altogether.
READ MORE: 'Russia not a threat, would not attack any NATO state' – Hungarian FM ahead of Putin visit
Earl Rasmussen, Vice-President in the Eurasia Centre, said he did not expect an overnight U-turn in Russia-US relations, arguing it will most likely be more of a bumpy road.
"It won't be an easy path and there will be resistance both within organizations as well as certain members within even his own party and opposition groups," Rasmussen told RT.

According to Rasmussen, "the key thing" that can be gleaned from the phone call between the presidents, is that they managed to "set a good tone" and focussed on key issues such as the joint fight against international terrorism.

"It's definitely going to be a challenge, but I think if we look for the common aspects of cooperation it provides a road forward," he said.

You can share this story on social media: