China reportedly deploys ICBMs near Russia's border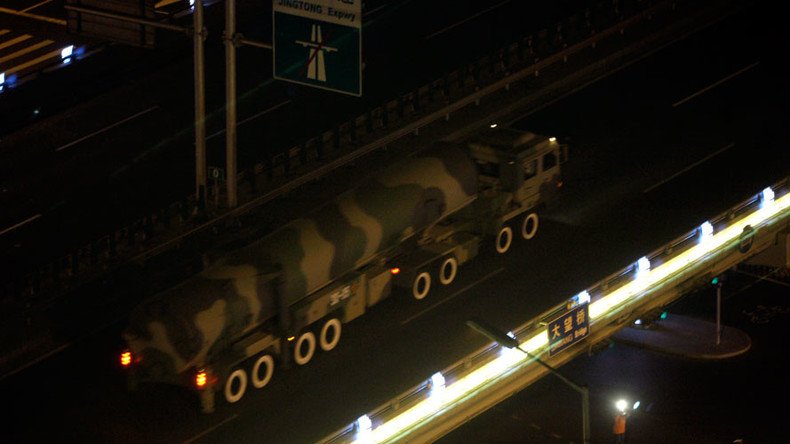 Beijing has deployed advanced Dongfeng-41 ICBMs in Heilongjiang Province, which borders Russia, according to reports based on images, possibly leaked to coincide with Donald Trump's inauguration as US president.
UPDATE: In a statement to RIA Novosti, the Chinese Foreign Ministry called media reports on China's deployment of ballistic missiles to the Russian border "speculations and crude guesses."
"Pictures of China's Dongfeng-41 ballistic missile were exposed on Chinese mainland websites," the Global Times said citing reports in "some Hong Kong and Taiwan media." Russian news agencies identified one of them as the Apple Daily, a Hong Kong-based tabloid-style resource.
"It was revealed that the pictures were taken in Heilongjiang Province. Military analysts believe that this is perhaps the second Dongfeng-41 strategic missile brigade and it should be deployed in northeastern China," the report in the Chinese daily adds. The Global Times works under the auspices of the People's Daily, the official newspaper of the Chinese Communist Party, though the former tends to be more controversial.
The DF-41 is a three-stage solid-propellant missile, which is estimated to have a range of up to 15,000km and be capable of delivering up to 10 MIRVed nuclear warheads. China is yet to show the ICBM to the general public during a military parade or any similar event. Most information of the advanced weapon remains highly classified.
There is speculation that China plans to deploy at least three brigades of DF-41s throughout the country. The image leak may have been timed with Trump's inauguration, with the new president expected to take a confrontational stance towards China, according to the Global Times' report.
Before taking office he angered Beijing by threatening to end the 'One China policy', which acknowledges continental China as the only Chinese nation and rejects Taiwan's claim to be one. He also said he would pressure Beijing on economic issues like its monetary policy and trade barriers.
China routinely uses demonstration of its military prowess to send signals to challengers like the US. For instance, it tested a railcar-launched version of the DF-41 in December 2016 just as then-Defense Secretary Ashton Carter visited the aircraft carrier 'USS John C. Stennis' deployed in the South China Sea.
The alleged deployment of the DF-41 near Russia's border should not be read as a threat to Russia, military analyst Konstantin Sivkov told RIA Novosti.
"DF-41 missiles placed near Russia's border are a smaller threat than if they were placed deeper in the Chinese territory. Such missiles usually have a very large 'dead zone' [area within minimal range that cannot be attacked by a weapon]," he said, adding that the ICBMs would not be able to target Russia's Far East and most of Eastern Siberia from the Heilongjiang Province.
The Kremlin agreed with the assessment, saying that China is Russia's "strategic partner in political and economic senses."
"Certainly, the actions of the Chinese military, if the reports prove correct, the military build-up in China is not perceived as a threat to our country," said Kremlin spokesman Dmitry Peskov.
You can share this story on social media: