China tests ICBM capable of striking US within half an hour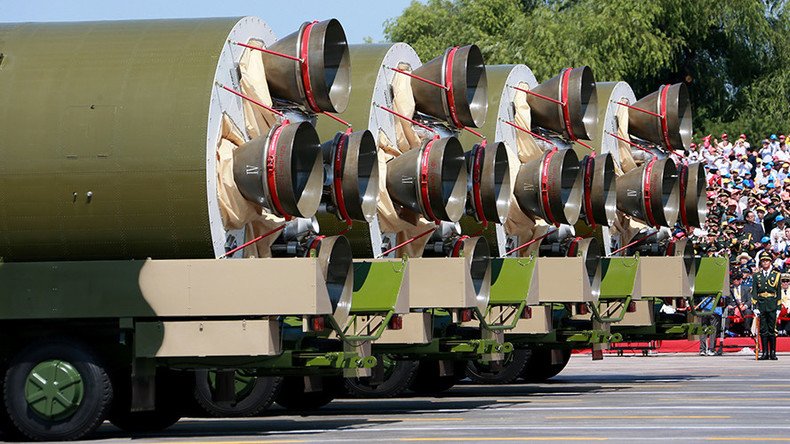 Beijing has successfully tested a new long-range ballistic missile capable of engaging any potential target worldwide. The rocket takes just 30 minutes to cover its maximum 12,000km range and can deliver multiple strikes on any nuclear-capable state.
The launch of China's Dongfeng-41 (East Wind, DF-41) missile was registered by the US satellite tracking system in real time, the Washington Free Beacon reports, although the location of the launch was not immediately revealed. The launch was made from a new road-mobile platform, and is reportedly the seventh test-firing of the DF-41.
American experts estimate the DF-41 to be an 80-ton, three-stage solid-fuel missile capable of carrying between six and 10 nuclear warheads.
The test was made with a DF-41 missile armed with two independently targetable reentry vehicles.
"As with previous MIRV tests, the PLA has used a small number of reentry vehicles to mask the real capability of the DF-41, which is estimated to be able to loft up to 10 warheads," the WFB cited China military affairs analyst Rick Fisher as saying.
China allegedly tested its deadliest nuclear missile on April 13 – about the time when the People's Liberation Army's high-ranking Gen. Fan Changlong headed a group of military commanders to inspect construction work at a man-made island in the Spratly Islands group. The exact date of the visit was not officially announced.
The test reportedly took place three days before US Defense Secretary Ash Carter visited the aircraft carrier USS John C. Stennis, operating in the South China Sea close to the disputed Spratly Islands claimed by Beijing.
The first information about the third generation Chinese ballistic missile – which according to the WFB is capable of reaching any location within the US – emerged in the American media in July 2014.
According to the Washington Free Beacon, the Chinese military staged its previous DF-41 ballistic missile test launch on December 5, 2015, when a missile was launched from a container mounted on a special railroad car.
"China is re-engineering its long-range ballistic missiles to carry multiple nuclear warheads," the WFB cited Adm. Cecil Haney of the US Strategic Command as saying on January 22 of this year.
In 2015, Kanwa Asian Defence magazine claimed that Beijing might add the DF-41 to its nuclear inventory as early as 2016.
You can share this story on social media: