Russian military says it carried out joint strikes with US-led coalition in Syria, US denies it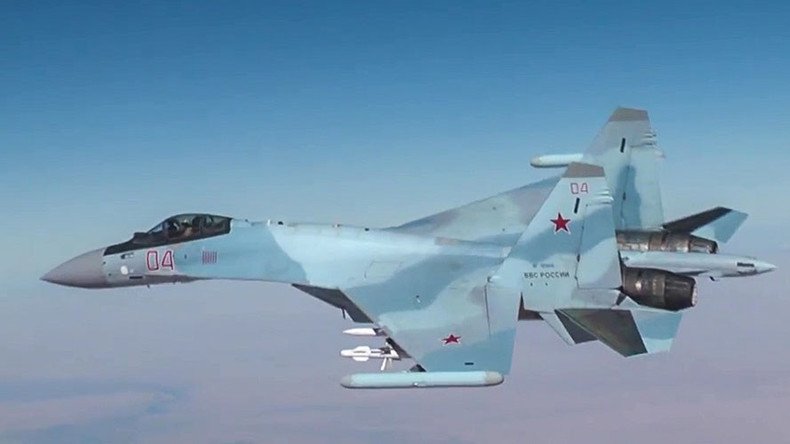 The Russian Air Force has conducted strikes against Islamic State targets together with the US-led coalition after receiving intel on targets from the coalition command center, the Russian military said. However, the US military has denied this.
On Sunday, the Russian Air Force group command at the Khmeimim airbase "received target coordinates of the Islamic State objectives in the Al-Bab area of the Aleppo [province] from the US side via the hotline with the international coalition headquarters," the Defense Ministry said in a statement Monday.
After conducting additional surveillance measures, using drones and satellites, two Russian warplanes together with two coalition aircraft carried out airstrikes on terrorist targets, hitting several fuel depots as well as ammunition stores and terrorist positions, the ministry added.
"Analysis of the results of the joint airstrikes conducted together with the international [anti-terrorist] coalition shows high efficiency of the joint actions aimed at the elimination of the international terrorist groups in Syria," the ministry said.
However, US Air Force Colonel John Dorrian, a spokesman for the US-led coalition, denied the reports about the joint operation conducted together with the Russian Air Force, calling all such claims "rubbish," according to AP.
US Navy Capitan Jeff Davis, a Pentagon spokesman, said that the US contacts with Russia in Syria were limited to routine "deconfliction" talks aimed at avoiding unintended aerial incidents in the area. Davis stressed that the US was not involved in coordination or target-sharing with Russia.
The joint operation was conducted a day after the Russian Air Force carried out a second joint air raid with Turkey. On Saturday, Russian and Turkish warplanes targeted Islamic State objectives in the Al Bab area.
The military air group consisting of three Russian warplanes, including two SU-24M and one SU-34, as well as of four Turkish aircraft, including two F-16s and two F-4s, hit 22 targets in the area, the Defense Ministry said.
The first such joint operation was conducted by Russia and Turkey on January 18. At that time, 36 terrorist positions were targeted in an operation that involved nine Russian and eight Turkish planes.
Both Russian-Turkish operations were coordinated with the Syrian government. Based on the initial results, the joint effort proved successful, the Russian Defense Ministry official said, commenting on the joint operations with Turkey.
At the same time, the Russian military is involved in a separate operation against Islamic terrorists in Syria, assisting the Syrian Army in the eastern Deir ez-Zor province to fend off the militants' recent large-scale offensive. Moscow is also assisting the Syrian Army in its efforts to defeat IS terrorists in Palmyra, where the Syrian army launched an offensive against the jihadists.
You can share this story on social media: