'Why you got a mask? Terrorist!' Woman charged after lashing out at Muslim in niqab (VIDEO)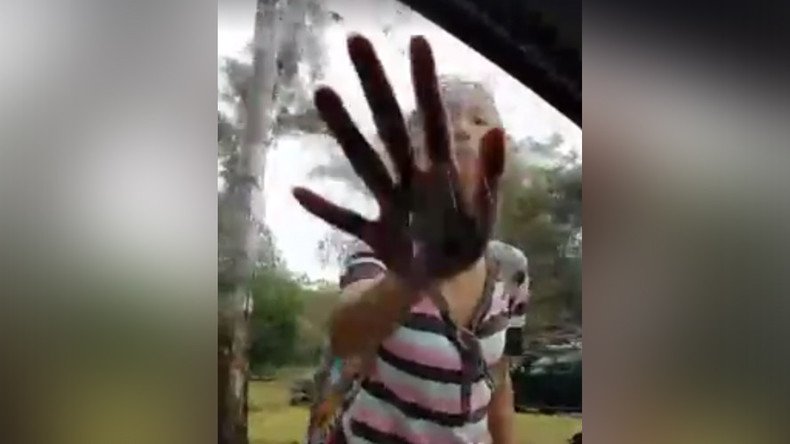 A married Muslim couple was forced to seek refuge inside their car when they were apparently attacked outside Macquarie University in Sydney, Australia because of a full-face veil worn by the wife.
Ramzy Alamudi, who filmed the incident on his phone on Friday afternoon, said on Facebook that he was enjoying a "special occasion" with his wife, who had "aced" the "final exam in her medical degree," when the encounter took place.
The couple was about to get into their car to drive to a celebration when then spotted a woman "staring viciously from a distance." In an attempt to defuse the tension, Alamudi's wife waved to the woman, who her husband said was another student at the same university.
The friendly gesture "turned the situation upside down," however, prompting the woman to bull-rush the vehicle, and the couple to lock themselves inside their car, Alamudi said. The attacker then proceeded to pull on the door handles and pound her fist on the window, while demanding that the woman take off her niqab.
In the video, the woman, who appears to be of East Asian origin, shouts, "Who are you? Why you got a mask? Terrorist. You got a gun?" in heavily-accented English.
"I only reacted after she was going to snap off my wipers (it was a rainy day!) I moved the abusive woman away from my wife until several witnesses assisted in the attempt to neutralize her till security came," wrote Alamudi.
The scene is then picked up by Emily Grace Guff, who witnessed the incident from outside the car and also filmed it.
"I see her looking so scary" and "I don't know what she carry" shouts the assailant to Alamudi.
"She was demanding this man show her some form of ID, calling out that she didn't belong here, and that we shouldn't let her walk around freely because we didn't know what she could have hiding under her dress," wrote Guff.
The police arrived after campus security and arrested the 35-year-old suspect, who was charged with common assault and property damage before being released. She has been ordered to appear in court in March.
Alamudi noted that what had happened to him and his wife is, sadly, yet another case of Islamophobia.
READ MORE: Australia Day Muslim themed billboard removed after threats
"Unfortunately, this type of Islamophobia isn't isolated to this one individual and incident. Rather, it is an overarching systematic issue in our society that continues to be bred by the propaganda of some media and some politicians. Dehumanizing Muslims. This is the problem," he wrote in his Facebook post.
You can share this story on social media: