S. Korean minister arrested, accused of blacklisting cultural figures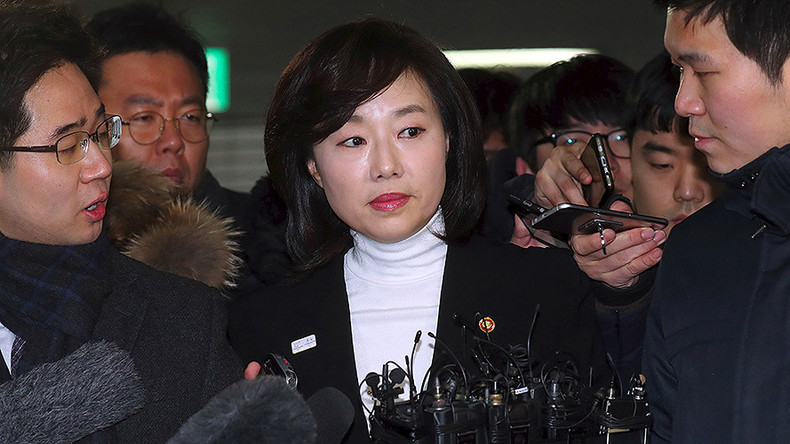 The South Korean minister of culture has been arrested over allegations that she helped blacklist almost 10,000 Korean cultural figures critical of President Park Geun-hye, who was impeached last month.
Cho Yoon-sun was arrested on Saturday morning on charges of abuse of authority and perjury after police obtained a warrant issued by the Seoul Central District Court, Yonhap news agency reports. In issuing the warrant, the court said that her crime had been "verified and there were concerns over the destruction of evidence."
The 50-year-old is accused of drafting a list that blacklisted cultural figures such as actors, painters, poets, and musicians. Once on the list, the individuals were denied government subsidies.
In October, South Korean daily newspaper Hankook Ilbo revealed that the South Korean government blacklisted 9,473 artists, including the winner of the Man Booker International Prize (2016), author Han Kang, and director Park Chan-wook, who won the grand prize at the Cannes Film Festival in 2004.
The culture minister, who assumed office last autumn, is the first sitting minister ever to be arrested, Reuters reports.
Besides arresting Cho, the prosecutors investigating the wider Park scandal also issued an arrest warrant for former presidential chief of staff Kim Ki-choon. Park Geun-hye's former top aide is accused of masterminding the blacklisting.
The special prosecution team investigating the corruption scandal began looking at the blacklist allegations following a complaint submitted by a group of artists.
A statement presented in December by an association of 144 artist groups said: "A blacklist of culture and arts industry personnel, oppressing freedom of expression and biased personnel reshuffling in charge of cultural organizations — these are things that cannot happen in the 21st century. This tramples on the self-esteem of artists and annihilates the creative desire of those who are dedicated to nurturing the culture and arts industry."
Before the prosecution sought arrests warrants for both individuals, the investigators questioned both Cho and Kim for 21 hours and 15 hours, respectively, on Tuesday and Wednesday, Yonhap reports.
READ MORE: Head of Samsung faces arrest for bribery
On December 9, Korean lawmakers voted to impeach Park on charges that she colluded with a friend to extort money from the country's biggest firms and allowed her friend to manipulate government affairs behind the scenes.
The South Korean Constitutional Court has six months to decide on the impeachment.
You can share this story on social media: