'No way:' China urges US to forbid Taiwan delegation from attending Trump inauguration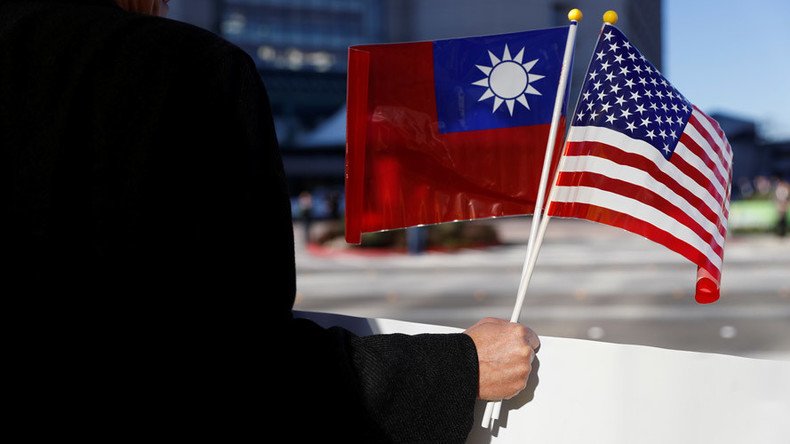 Beijing has called on Washington to bar Taiwan representatives from attending US President-elect Donald Trump's inauguration on Friday, warning that the "so-called delegation" could "disturb or undermine Sino-US relations."
Chinese Foreign Ministry spokeswoman Hua Chunying said Beijing was opposed to Taiwan, which China considers a renegade province, sending its own representatives to "engage in activities to interfere in or damage China-US ties."
"We again urge the relevant side in the United States not to allow the Taiwan authority to send a so-called delegation to the United States to attend the presidential inauguration and not have any form of official contact with Taiwan," Hua told a news briefing on Wednesday.
"China's position has already accurately and unmistakably been given to the US administration and Trump's team," she added, noting that China's ambassador to the United States, Cui Tiankai, will attend the inauguration.
Taiwan is to send Yu Shyi-kun, former premier and ex-ruling party leader, to represent Taipei at Trump's inauguration. He will be joined by lawmakers and government officials representing both the ruling Democratic Progressive Party and the opposition Nationalists, Taiwan's Foreign Ministry said on Tuesday, adding that the delegation intends to "express the importance our government and people place on close friendly bilateral relations."
"Taiwan-US relations have a lengthy history and have made significant progress in recent years," the statement said, according to AP. Congratulating Trump on his election, the government pledged to "continue to strengthen Taiwan-US relations in future on the basis of excellent mutual trust and interaction."
On Monday, China's Foreign Ministry said the "one-China principle" is not negotiable and any attempt to reconsider the issue would have a negative effect.
"Not everything in the world can be bargained or traded off," Hua told reporters.
READ MORE: Beijing to Trump: 'One China' principle non-negotiable
The question of Taiwanese independence is a particularly sensitive issue for both sides. China considers the small island 80km (110 miles) off its southeastern coast to be a breakaway province with no right to any kind of diplomatic contacts with other countries. Any official contact between foreign governments and Taiwan's officials comes under fire from Beijing.
Should Trump break the 'one-China' policy after taking office, the Chinese people will call on the government to "take revenge," Beijing's unofficial mouthpiece warned immediately after Taiwanese President Tsai Ing-wen (whom China does not recognize as legitimate) made a stopover in Houston earlier this month.
"In case he [Trump] tears up the one-China policy after taking office, the mainland is fully prepared," the Communist party-owned Chinese newspaper Global Times said in an editorial.
"If Trump reneges on the one-China policy after taking office, the Chinese people will demand the government to take revenge. There is no room for bargaining," the newspaper concluded.
Trump made waves when he stated during a conversation on trade relations with Fox News last month that "I fully understand the 'One China' policy, but I don't know why we have to be bound by a 'One China' policy unless we make a deal with China having to do with other things, including trade."
"I don't want China dictating to me," he added.
Trump added fuel to the fire when he told the Wall Street Journal on Friday that he may dispense with the "One China" policy, the principle that Taiwan is Chinese territory.
"Everything is under negotiation, including 'One China,'" he said.
Last month Trump triggered an avalanche of protest from Beijing by becoming the first American president or president-elect to speak with a Taiwanese leader since 1979, thus openly questioning Washington's previous commitment to Beijing's position that Taiwan is part of a single China.
Under President Jimmy Carter, the US switched its diplomatic recognition of China from Taipei to Beijing in a joint communiqué issued by America and the People's Republic of China, acknowledging "the Chinese position that there is but one China and Taiwan is part of China."
Nonetheless, Washington has maintained commercial ties with Taiwan for nearly four decades. Taiwan is the US' ninth-largest trading partner, and the United States is Taiwan's second-largest, the US State Department says. Washington is legally bound to regard any threat to the island as a matter of grave concern.
You can share this story on social media: