Western 'messiahship' bred Ukrainian crisis, Arab Spring, & refugee flood – Lavrov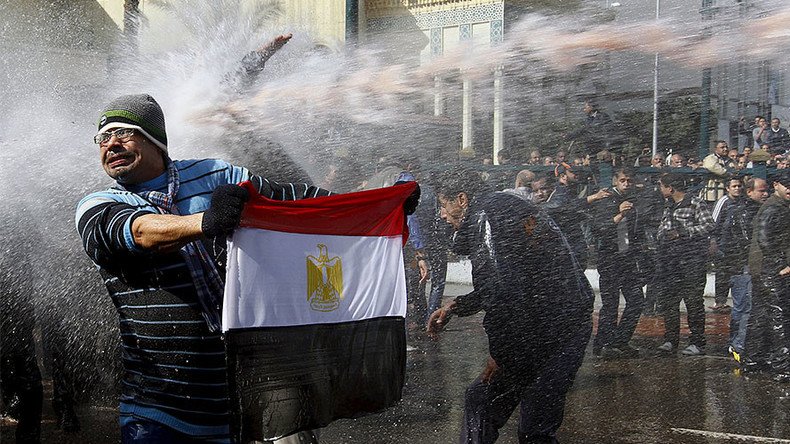 The foreign policies of Western nations have been driven by 'messiahship' and attempts to export their values worldwide, Sergey Lavrov said Tuesday. This approach ultimately led to the Ukrainian crisis, the 'Arab Spring' & the refugee crisis.
"The export of values continues to sow crises in international relations. This export of values and the demand to adhere only to a European perspective launched the crisis in Ukraine," Russian Foreign Minister Sergey Lavrov said.
"Exporting democracy led to the so-called 'Arab Spring' [and] gave birth to the export of refugees into Europe," Lavrov said at a press conference on the results of Russian diplomacy in 2016. He also noted that from his point of view, current Western values are not traditional for Europe itself.
"If we talk about the Western, European values that we are all constantly reminded of as exemplary, they are not the values that were professed by the ancestors of modern-day Europeans, they are something new, modernized."
"I would describe them as post-Christian values [that] are fundamentally at odds with the values of our country, which we want to keep and pass on," Lavrov said.
He called the attempt to impose these 'post-Christian values' on Russia "indecent from the humane point of view," and "a colossal mistake and unacceptable revaluation of one's own influence on international relations."
The top Russian diplomat pointed to the West's attempts to impose democracy on the Middle East and summarized the gruesome outcome, especially regarding the local Christian populations.
"After the outbreak of hostilities in the Middle East, the number of Christians in Iraq has decreased four times, in Syria – dramatically more," he said, adding that this "once again confirms the inhuman character of the 'liberal values' for which 'authoritarian regimes' are being destroyed."
He also noted that Moscow is highly concerned that the international community is still unable to create a united front against terrorism.
"This causes serious concern and regret. Why is this happening? There may be many reasons."
"We see that the problem of forming common ranks to fight terrorism, organized crime, drug trafficking, many other threats, this problem is becoming systemic," he stated, noting that possible joint efforts in these spheres are hampered by contradictions in the basic principles of foreign policies of partnering states.
"These are either pragmatism, [the focus on] well and correctly understood national interests, or messiahship, the desire to spread one's values around the world, in the form in which they have been developed in this particular group of countries," Lavrov said, referring to the US, EU, and NATO.
He noted that Russia, for its part, is open to cooperation with these partners on pressing global issues, but only in a climate of mutual respect, and without attempts at importing their values into Russia.
"We are looking for closer ties with those who are ready to work with us on the basis of mutually beneficial cooperation, respect of one another's interests and balance of interests," Lavrov told reporters.
'Cooperation with Trump's team expected to be more effective, but Russia remains realistic'
Answering questions from reporters, Lavrov noted that Russia hopes cooperation both on settling the Syrian crisis and on fighting terrorism will be more productive with the incoming Trump administration than it has been with Obama.
"I hope that our cooperation on the Syrian crisis, as well as on other issues related to the fight against terrorism will be more effective than with the Obama administration."
"It is quite possible to breathe new life into these mechanisms, considering that the new US administration claims it aims to combat terrorism for real," Lavrov said. He stated that Russia welcomes the decision of the incoming US president to make the fight against terrorism a priority during his time in office.
"When we hear that Donald Trump regards combating terrorism the top priority of his foreign policy, of course, we can only welcome this decision, because this is what our US partners have so far lacked."
"We heard Donald Trump and his team say they will approach it differently and avoid double standards instead of using them to pursue goals," the minister went on to say.
He noted, however, that Russia is realistic and cautious when it comes to expectations regarding the new US administration.
"We are realists; we follow, of course, the new US administration's preparation for assuming office. I would not go to the extremes: at the moment there are a lot of forecasts, speculation in the media and in the political science community, some are looking forward to new developments, and some say that nothing will change," the minister said, adding that the intentions of the new US administration regarding the rest of the world will only be clear after it starts its work.
You can share this story on social media: