Dozens of civilians killed in botched strike on Boko Haram – reports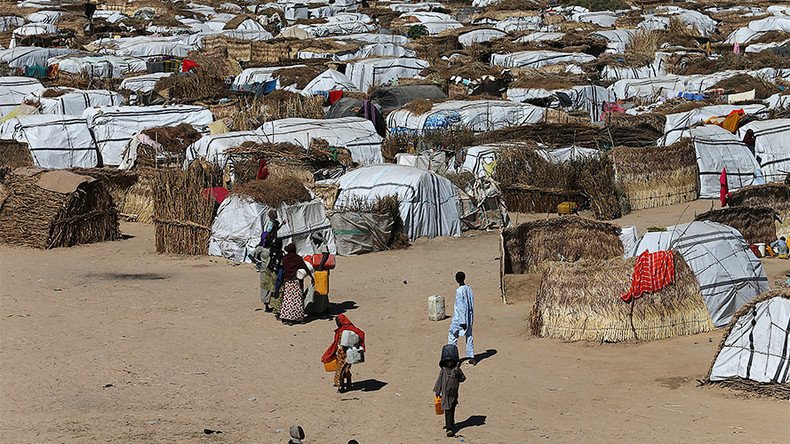 The Nigerian air force has accidentally killed dozens of civilians in an airstrike against Islamist militant group Boko Haram, according to reports.
Regional military commander General Lucky Irabor said the strike took place on Tuesday morning in the Kala Balge area of Borno state in the northeast of the country, close to the border with Cameroon.
It remains unclear how many people died when an air force fighter jet mistakenly bombed an Internally Displaced Peoples camp. Médecins Sans Frontières (MSF) has said 120 have been injured and 50 were killed, according to Reuters, while an unnamed official told AP that more than 100 civilians lost their lives.
"Many civilians including personnel of International Committee of the Red Cross and Médecins Sans Frontières (MSF) were wounded," General Irabor told Reuters.
"Unfortunately, the strike was conducted but it turned out that other civilians were somewhere around the area and they were affected," General Irabor said, according to Nigeria's Today news site.
"So far, it is a little bit disturbing; death has occurred… Some humanitarian staff of Médecins Sans Frontières and some staff of International Committee of Red Cross were also affected."
READ MORE: Boko Haram leader 'fatally wounded' in Nigerian air raid – report
It's understood that 20 Red Cross workers are amongst the dead, AP reports. "Our medical and surgical teams in Cameroon and Chad are ready to treat wounded patients," a statement from MSF read. "We are in close contact with our teams, who are in shock following the event."
Irabor told reporters that they are "sending helicopters to evacuate those that were critically wounded, including our wounded soldiers."
Irabor said he ordered the mission after receiving geographic coordinates of suspected Boko Haram insurgents thought to be gathering in the area. It was too early to say if a tactical error was made, he said. He also confirmed that there will be an investigation into the incident.
The incident comes after Boko Haram, who are affiliated with Islamic State (IS, formerly ISIS/ISIL), claimed responsibility for Monday's suicide bombing on the University of Maiduguri which left five people dead.
READ MORE: 12yo girl among suicide bombers in Nigerian university attack
President Muhammadu Buhari declared in December that the group had been "crushed," following reports that troops destroyed the terrorist group's stronghold in the Sambisa Forest in the country's northeast.
You can share this story on social media: