8 richest people as wealthy as poorest half of the world – Oxfam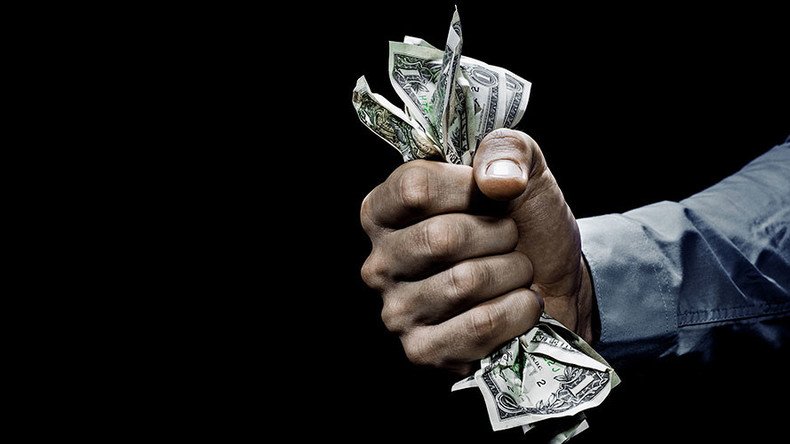 The wealth of the 8 richest people on earth equals that of the poorest 3.6 billion, according to a report by Oxfam presented at the World Economic Forum in Davos. This vast wealth gap is a threat which may "pull our societies apart," the report warned.
The list of the eight wealthiest individuals in the world, all men, comes from Forbes magazine's billionaires list, and includes Microsoft founder Bill Gates, Facebook co-founder Mark Zuckerberg, and Amazon founder Jeff Bezos.
Others include Inditex clothing company founder, Amancio Ortega, investor Warren Buffett, Mexican business magnate Carlos Slim, Oracle's Larry Ellison, and former New York City Mayor Michael Bloomberg.
Oxfam emphasized the potential connection between the growing gap between the richest and the poorest, and the increasing anger at establishment politicians.
"It is obscene for so much wealth to be held in the hands of so few when 1 in 10 people survive on less than $2 a day," said Oxfam International Executive Director Winnie Byanyima, who will be attending the Davos Forum, according to The Chicago Tribune.
"From Brexit to the success of Donald Trump's presidential campaign, a worrying rise in racism and the widespread disillusionment with mainstream politics, there are increasing signs that more and more people in rich countries are no longer willing to tolerate the status quo," Oxfam said in its new report – "An economy for the 99 percent."
According to the report, if things continue on their current course, the world will see its first trillionaire in the next 25 years.
Inequality exists not only between the rich and the poor, but is gender-based as well. "On current trends, it will take 170 years to see women paid the same as men," the report says.
READ MORE: Millennials earn less, owe more than Baby Boomers at same age – report
Oxfam urged an increase in tax rates for "rich individuals and corporations," adding that tax evasion is a critical issue. The UN Conference on Trade and Development estimated that developing countries lose around $100 billion yearly due to tax evasion, the report said, adding that it would be enough money to ensure that 124 million children who currently have no access to education can go to school.
The report also slams corporate lobbying and the close relationship between business and politics.
"Crony capitalism benefits the rich, the people who own and run these corporations, at the expense of the common good and of poverty reduction. It means that smaller businesses struggle to compete and ordinary people end up paying more for goods and services," it stated.
The revised figures come after last year's report that 62 people owned the same wealth as 50 percent of the world's population. The new report takes into account data from India and China.
You can share this story on social media: