Washington seems on brink of 'civil war' as elites fuel anti-Trump hostility – former German MP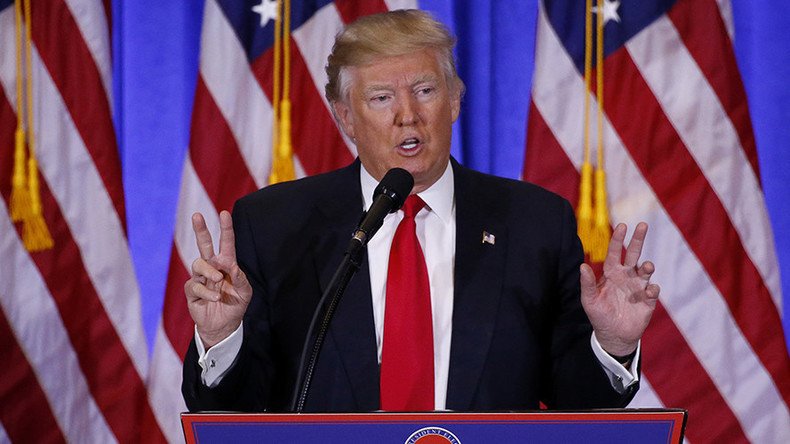 The US establishment is working hard to make it impossible for Donald Trump to ditch the warmongering policies previous administrations pursued, and to deliver on his pledge to mend relations with Russia, former CDU defense spokesman Willy Wimmer told RT.
"When you see the situation in Washington, I think they are not willing, those who lost the election, to accept the new president whose name is Trump… What's going on in Washington sounds like the beginning of a civil war," said Wimmer, who is a former MP with Angela Merkel's Christian Democratic Union (CDU), and also served as vice president of the Parliamentary Assembly of the Organization for Security and Co-operation in Europe (OSCE).
The former OSCE top official noted that not only members of the Democratic Party, who staked everything on Clinton's victory, but also Republicans from the war establishment camp, like Sen. John McCain, put up a united front against US President-elect Donald Trump's plans to build good relations with other countries. Such foreign policy strategy may deal a blow to their hawkish worldview, Wimmer argues.
"There is a network of resistance against the President who will be in office on the 20th of January and I think when you look at the reality in Europe, people of all our European countries – they want to live in good [relations] with [the] Russian Federation," Wimmer said, adding that the media campaign aimed at vilifying Trump resembles the way the mainstream media used to demonize Russia.
"There is no hostility [between Russia and Europe], the hostility is organized in a very artificial way and it is the same way of organizing hostilities as we see nowadays against Trump," the former MP said.
Wimmer believes that the smear campaign against Trump is running full tilt with scores of scathing articles popping up "in all leading newspapers this morning all over the world."
Trump slams BuzzFeed as 'failing pile of garbage,' rejects CNN question over 'fake' report

The main goal behind all this enormous effort is to "just to make it impossible for the new US President to go for a better policy, not leave as a warmonger as others did," Wimmer said.
"This makes it very clear that there's a network of Democratic and Republican war establishment in Washington and they are not willing to accept the ballots," the former lawmaker explained.
Wimmer argued that while Russia-EU relations have deteriorated in the past few years – following Crimea's reunification with Russia, which led to sanctions encouraged by Washington – the EU and Moscow "had excellent relations" before "something… changed in the US policy."
"Now we are in a situation that everything they do, everything which can be done also with regard of the next German elections is to find reasons to go for conflict or even to go for a war," Wimmer said, describing the tension existing in the increasingly polarized world as "most dramatic days we have in our lifetime."
Wimmer suggested that to avert confrontation, instead of sticking to narrow interests, one "should look at the broad picture."
"I think everybody in Europe wants to see Trump in office pursuing the policy he explained during the campaign – to go for good relationships with others, including with the Russian Federation," he said, adding that there is "no reason" for Europe "to perform hostility towards the Russian population or to the Russian government."
During his campaign and after winning the election, Trump has been repeatedly accused by the US mainstream media and Democratic Party politicians of having ties to Russia and to Russian President Vladimir Putin, with Washington officials painting the Russian government as a pro-Trump, and capable of tilting the American election in Trump's favor with alleged "hacking attacks" on the Democratic Party.
The president-elect repeatedly denied the claims, dismissing it as fake news.
"Having a good relationship with Russia is a good thing, not a bad thing. Only stupid people, or fools, would think that it is bad! We have enough problems around the world without yet another one," a statement on Trump's Facebook page said on January 7, adding that he and the Russian president may "work together to solve some of the many great and pressing problems and issues of the WORLD!"


You can share this story on social media: