Children killed in Saudi-led airstrike on school in Yemen – reports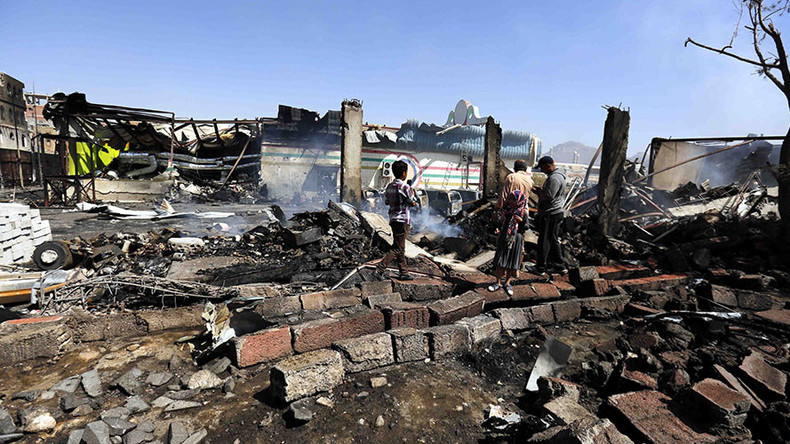 At least 8 children lost their lives and 15 others were critically injured in an airstrike from Saudi-led forces that hit an elementary school to the northeast of the Yemeni capital Sanaa, a state Yemeni news agency has said.
The school in the Nehm district was reportedly completely destroyed, and the search for survivors in the rubble continues, SABA reported on Tuesday.
Conflicting reports put the death toll at five, AFP said, citing medics.
Government military officials told AFP that two missiles targeting Shiite Houthi rebels in armored vehicles had hit the nearby school by mistake.
Less than a month ago, Human Rights Watch (HRW) accused the Saudi-led coalition of hitting two schools in the northern Yemeni city of Saada with Brazilian-made surface-to-surface rockets containing banned cluster munitions.
That attack came only a day after Brazil, Saudi Arabia, Yemen, and the US abstained from a UN vote on banning the use of cluster munitions.
At the end of last year, the coalition admitted to using UK- and US-made cluster munitions in attacks in Yemen. While Saudi Arabia has promised to stop using the UK-made munitions, it says it could still use other types of cluster munitions in the conflict.
READ MORE: Canada defends record $11bn arms sale to Saudi Arabia in court
Yemen has been torn by a bloody conflict since 2014 between the country's government headed by Abd Rabbuh Mansur Hadi, and a Houthi movement supported by army units loyal to ex-President Ali Abdullah Saleh. For almost two years, the Saudi-led coalition has been conducting attacks on Houthi fighters. In August, the UN put the death toll from the years-long war at 10,000, having warned that the actual number may be much higher.
You can share this story on social media: