Canada defends record $11bn arms sale to Saudi Arabia in court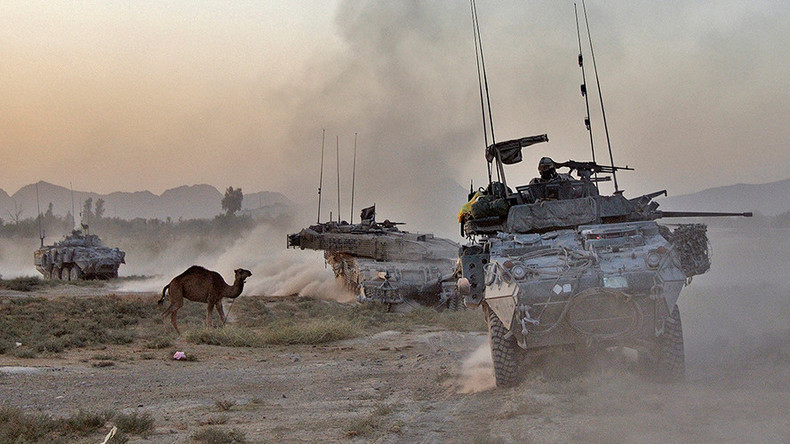 The Canadian government is fighting a court battle against an anti-war activist seeking to derail a record arms deal with Saudi Arabia. The activist argues the weapons could be used to violate human rights, including in the Saudi intervention in Yemen.
The deal for light armored vehicles (LAVs) is the largest advanced manufacturing export contract in Canadian history, the Globe and Mail reported. Estimated at almost 15 billion Canadian dollars (US$11 billion), it dwarfs any other sale of arms ever made by the country. It was negotiated by the conservative government of Prime Minister Stephen Harper and endorsed by his liberal successor, Justin Trudeau, whose government sealed the contract in April.
The deal was challenged in court this week by law professor and former politician Daniel Turp. He argues that the delivery of weapons to Saudi Arabia, which is engaged in a bloody camping to quash a rebellion in Yemen on behalf of the country's ousted president, may violate Canada's commitments to human rights.
"To give arms to a country that uses them to violate human rights is to contribute to that violation," Andre Lesperance, a former federal lawyer representing Turp, told a federal court in Montreal. "It's beyond willful blindness."
The government countered by saying there was no evidence that Saudi Arabia had ever used previously-purchased Canadian LAVs against civilians. But it hinted that Ottawa did not discount the possibility that the armored vehicles may end up being used in Yemen.
"The fact that Saudi Arabia is not a threat, but more so a key military ally who backs efforts of the international community to fight the Islamic State in Iraq and Syria and the instability in Yemen," federal lawyers said, as cited by Vice Canada. "The acquisition of these next-generation vehicles will help in those efforts, which are compatible with Canadian defense interests."
The Globe and Mail earlier published footage of armored vehicles similar to the LAVs used by Saudi Arabia to suppress protests in its Eastern Province. The Yemeni intervention has been criticized by numerous rights groups for the large number of civilian casualties, with some accusing the Saudis of committing war crimes.
During the court hearings, Ottawa also challenged Turp's right to question the contract under the Geneva Conventions, which regulate humanitarian aspects of warfare.
"The Geneva Convention certainly wasn't intended to bring forward a cause from someone who is not himself in an armed conflict," federal lawyer Vincent Veilleux said. "Countries jealously protect their sovereignty. They agreed to these conventions in an extremely limited scope."
The lawyers also asked Justice Lamer-Tremblay to force Turp to pay the legal costs of several previous cases he had brought against the Canadian government over potential participation in the Iraq War, the handling of detainees in Afghanistan, and Ottawa's withdrawal from the Kyoto climate-change protocol. None of those cases was successful.
Lesperance argued that such a move would discourage Canadians from challenging their government's policies.
The judge did not give a deadline for the ruling, but it is expected before the New Year.
READ MORE: British cluster bombs used in Saudi Arabia's Yemen campaign

The Canadian government is not the only one under fire over arms sales to Saudi Arabia amid the continued violence in Yemen. The same issue caused heated debates in the British parliament, where Prime Minister Theresa May's government has defended arms trade with Riyadh despite mounting evidence that British weapons have contributed to civilian suffering in Yemen.
You can share this story on social media: