'Carter got wrong country when he said Russia had done zero in Syria' – Russian Defense Ministry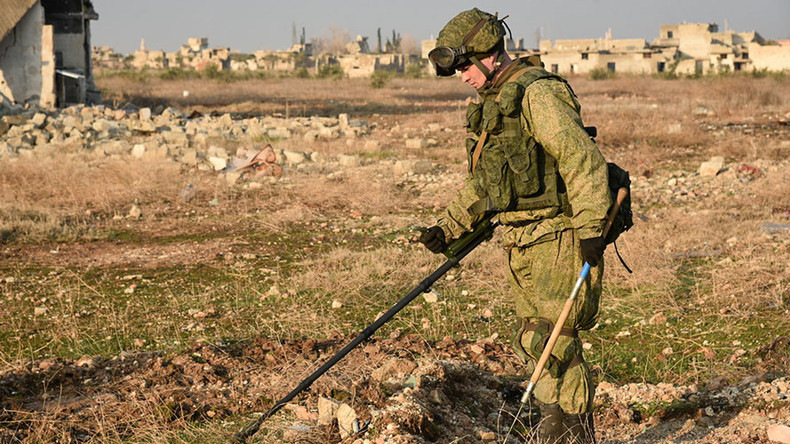 Russian Defense Minister Sergey Shoigu slammed Pentagon chief Ashton Carter for confusing the facts, after the US official said Russia's contribution to fighting terrorism in Syria was "virtually zero." Shoigu advised Carter to be more careful with his assessments.
"Yesterday I listened to a speech by one of my foreign counterparts... He said that Russia's contribution to the struggle against terrorism in Syria and in the region was equal to zero. I might have subscribed to what he said in a sense only if: A, that counterpart of mine had not picked the wrong country; and, B, he had been more careful in his comments," Shoigu said Tuesday at a meeting with the leadership of the Russian Defense Ministry.
In an interview on Sunday with NBC's Meet the Press, US Secretary of Defense Carter claimed that Russia had done nothing in the fight against Islamic State (IS, formerly ISIS/ISIL) terrorists in Syria.
"They [Russia] haven't done anything. They came in, they said they were going to fight ISIL, and they said they were going to help in the civil war in Syria. They haven't done either of those things. As a consequence of course, we're fighting ISIL ourselves," Carter stated, adding that Moscow had achieved "virtually zero" in resolving the Syrian crisis.
Shoigu dismissed the statements, noting that Russian air forces in Syria had fulfilled their orders, while the forces of the international coalition had only succeeded in "turning things for the worse."
"We have accomplished the main task that the supreme commander-in-chief had set to us last year," Shoigu explained. "However hard it might have been for us, however greatly we might have needed support from the international coalition, which in fact has not only achieved nothing but even turned things for the worse, to our deep regret we saw no such support. And that task required us to apply all of our effort and ability, to dispatch a large group to Syria, including an aircraft carrier-led group and extra aerospace resources and military police as well."
The US-led international coalition's own strikes in Syria targeted everything but oil production facilities captured by IS terrorists, the Russian Defense Ministry said earlier, accusing Washington of leading yet another campaign to "methodically and steadily" destroy another sovereign country's economic infrastructure.
US-led forces also killed dozens of Syrian government soldiers in an airstrike, despite Washington promising to avoid them when it intervened in the conflict. Washington then said the Syrian positions were targeted by mistake.
Russian Foreign Ministry spokeswoman Maria Zakharova also commented on Carter's claims, at the same time referring to Monday's statement by CIA Director John Brennan that Washington's move to send troops to Iraq was "a contributing factor" to the instability in the Middle East and the rise of Islamic State.
"If we knew then what we know now in terms of what ISIL was able to do, in terms of just this explosive growth in Iraq that then was able to lop over into Syria, would we have pursued the same course? Probably not," Brennan told CNN.
"Following the logic of American military officials, Russia is to blame for failing to fix Washington's mistakes," Zakharova said.
"Based on these statements, either key representatives of the Obama administration do not communicate with each other at all (for reasons we can only guess, although, knowing who were his closest associates in charge of the whole kitchen, this is not surprising), or this is simply a case of catastrophic stupidity. However, one does not exclude the other," the spokeswoman wrote in a Facebook post.
Russia's General Staff announced last week that Moscow had started to reduce its military presence in Syria, following a decision by President Vladimir Putin. The Russian naval task force led by the country's sole aircraft carrier, the 'Admiral Kuznetsov', will be the first to leave the area of conflict.
Russia launched its anti-terrorist operation in Syria in September 2015, at the request of Syrian President Bashar Assad. On December 30, 2016, a comprehensive ceasefire was announced in the country after a truce agreement was reached by the Syrian government and armed opposition groups. Russia and Turkey are acting as the guarantors of the truce, which does not cover Islamic State and Al-Nusra Front terrorists.
You can share this story on social media: