'LeniLeaks': Duterte's cabinet to probe VP's alleged role in overthrow plot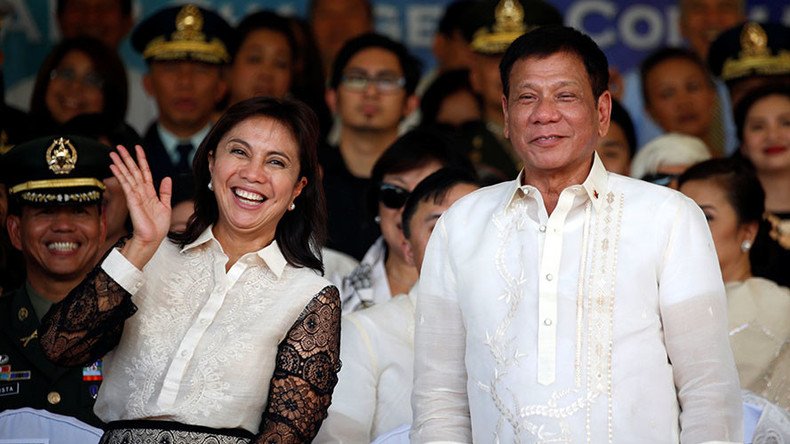 The Cabinet of Philippines President Rodrigo Duterte will investigate an alleged email leak that reportedly reveals that the country's vice president has been involved in efforts to overthrow the controversial leader.
The emails, which have been dubbed 'LeniLeaks' online, purportedly show supporters of Vice President Leni Robredo calling for rallies against Duterte's administration.
Those involved in the exchanges, which were posted online by bloggers, were Filipino-American members of a Yahoo! group called Global Filipino Diaspora Council, which is allegedly plotting to oust Duterte.
Billionaire philanthropist Loida Nicolas-Lewis and her sister, former Commission on Filipinos Overseas Chair Imelda "Mely" Nicolas, were both reportedly involved in the exchanges.
"[Duterte] asked for an extension of another six months. Extension denied! Join Duterte Resign Movement," one of the emails from Nicolas-Lewis allegedly reads, referring to Duterte's admission that he could not solve the country's drug problem in six months, as previously promised.
Justice Secretary Vitaliano Aguirre said on Monday that he is convinced Robredo is connected to the group.
On Sunday, National Security Adviser Hermogenes Esperon Jr. called the allegations against Robredo "serious" during a podcast of presidential communications secretary Martin Andanar.
"I need to look into it, this looks like a serious matter that needs an in-depth probe," Esperon said, as quoted by CNN Philippines.
However, GMA News quoted Esperon as saying that a discussion of the emails is not on the agenda for the first Cabinet meeting of 2017.
"We have a Cabinet meeting. It happens that it is not one of the matters to be taken up. That just tells you that we have other more important matters [to discuss]," Esperon told reporters. He did state, however, that the administration would look into the emails at some point.
Robredo denied the allegations in an interview transcript released by her office on Monday. She went on to slam Justice Secretary Aguirre for previously accusing her of staying in Lewis' house during her recent trip to the US. Though she admitted that Lewis supported her during her campaign for Congress in 2013, she said she has not heard from her since.
Duterte has come under fire since taking office in May of 2016 on a promise to wipe out drugs and dealers in the country.
His controversial 'war on drugs' has so far led to the death of almost 6,000 people, according to statistics released by the national police in December. Most of those were reportedly killed in vigilante or extrajudicial killings, while others lost their lives in police operations.
Duterte's campaign has been sharply criticized by the US, the European Union, and the United Nations. The president has lashed out at each of his critics, calling President Barack Obama a "son of a bi**h/whore" in September. He also gave the EU a "f**k you," telling the bloc it is only criticizing his war on drugs in "atonement" for its own sins, and called UN Secretary-General Ban Ki-moon a "devil."
You can share this story on social media: