US Navy ship fired warning shots at Iranian vessels in Strait of Hormuz – report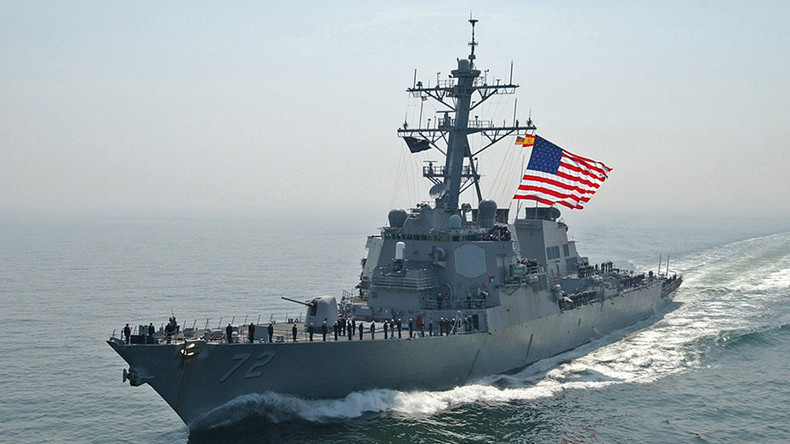 A US Navy ship fired three warning shots at four vessels of the Iranian Revolutionary Guard after they closed in at high speed in the Strait of Hormuz, according to US defense officials cited by Reuters.
The 'USS Mahan' destroyer apparently tried to establish contact with the approaching Iranian vessels and asked them to reduce their speed, but they did not respond, according to unnamed officials quoted by the news outlet.
The incident took place on Sunday.
According to Reuters, Iranian ships came as close as 800 meters (2,624ft) to the 'USS Mahan', which had been guarding other US vessels.
In late November, a small Iranian vessel pointed its gun at a US Navy chopper in the Strait of Hormuz, the Pentagon announced at the time. The incident happened in international waters, US military officials noted.
READ MORE: Iranian ship aims gun at US Navy helicopter in Strait of Hormuz – Pentagon
The encounters are just the latest in a spate of similar incidents involving the Iranian and US Navies in 2016. In July, the 'USS New Orleans' and its escort ship, the 'USS Stout', a guided missile destroyer, were approached by several Iranian vessels whose crews filmed the sailors.
READ MORE: Iranian vessels mounted with machine guns approach US warship in Strait of Hormuz
The most widely-reported case, however, occurred in January 2016, when 10 US sailors were taken into custody after their boats crossed into Iranian waters. Footage later emerged showing US servicemen kneeling on the deck of the patrol boat with their hands up, and later seated in a room being given tea and food by the Iranians. The Pentagon later announced that the US sailors had crossed into Iranian waters due to a malfunction in navigation equipment.
READ MORE: Iran seized '1,000s of valuable docs' from detained US sailors, Revolutionary Guard general claims
The Strait of Hormuz is located between the Gulf of Oman and the Persian Gulf. It is the only seaway from the Persian Gulf to the open ocean and is among the world's key maritime 'choke points.'
Tehran has repeatedly threatened to close the path for the US and other international powers during political tensions. The Strait of Hormuz is crucial to both regional security and the global economy, and accounts for about one-third of global oil shipments. Keeping maritime traffic through the strait open is essential for gas and oil importers such as the US and China.
The 'USS Mahan' is an Arleigh Burke-class destroyer, commissioned in 1998. It is armed with dozens of Tomahawk cruise missiles, which have a range of about 1,000 nautical miles (around 1,900km) and are used for precise targeting.
You can share this story on social media: