Ex-Kosovo PM arrested in France on Serbian warrant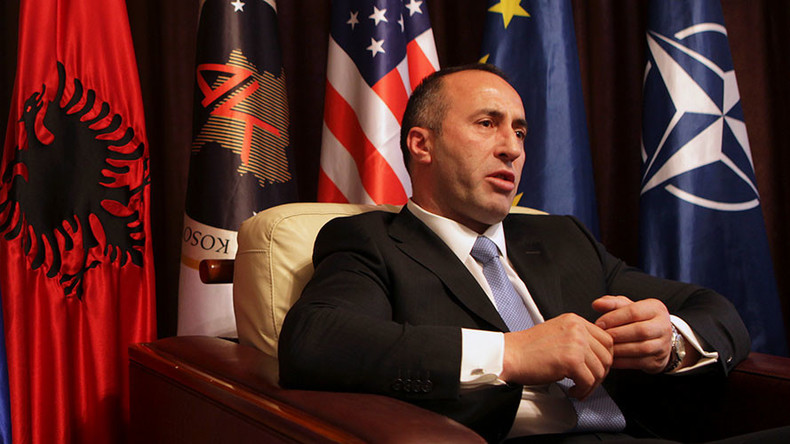 French police arrested former Kosovo Prime Minister Ramush Haradinaj on an international warrant filed by Serbia in 2004. Haradinaj is wanted for alleged war crimes committed during his late-nineties insurgency campaign in the southern Serbian province.
Haradinaj, a former commander in the 'Kosovo Liberation Army' (KLA) turned politician, was charged with atrocities during the 1998-1999 conflict. Serbia considers the KLA a terrorist organization.
French police detained Haradinaj on arrival at Basel-Mulhouse airport from Pristina, according to sources who spoke to Reuters. He was reportedly travelling on his diplomatic passport.
A statement by Kosovo's foreign ministry, cited by Reuters, said Haradinaj "was stopped by French authorities based on an arrest warrant issued by Serbia in 2004, which for us is unacceptable." The ministry added it was doing everything in its power to secure Haradinaj's release.
"With these primitive acts, Serbia is not only hurting the spirit of the dialogue to have good neighborly relations, but is proving that it is a destabilizing factor in the whole region", Edita Tahiri, Kosovo's minister for dialogue with Serbia, is quoted as saying by Reuters.
Haradinaj will remain in custody until Serbia makes a formal extradition request, a French appeal court said on Thursday.
"Our prosecutor's office has numerous pieces of evidence against Mr. Haradinaj," Serbia's Prime Minister Aleksandar Vucic said on Thursday, as quoted by AP.
"He is accused of so many [crimes] that they are impossible to list," he added. Vucic also noted that West European countries would have to stop "patronizing" his country on judicial reforms for EU accession if Paris fails to extradite Haradinaj.
Haradinaj, who currently heads the opposition party Alliance for the Future of Kosovo (AAK) was previously detained in Slovenia in 2015, but released two days later after diplomatic pressure from the EU.
The former prime minister has already been tried twice before the war crimes tribunal in The Hague but was acquitted both times, as witnesses against him turned up dead or unwilling to talk. He served as prime minister of Kosovo in 2004-2005, while the southern Serbian province was occupied by NATO and under UN administration.
NATO attacked Serbia in 1999 to aid the ethnic Albanian insurgency in Kosovo. The breakaway province unilaterally declared independence from Serbia in 2008, with the backing of Western powers.
You can share this story on social media: