Protests & looting across Mexico amid sudden 20% fuel price hike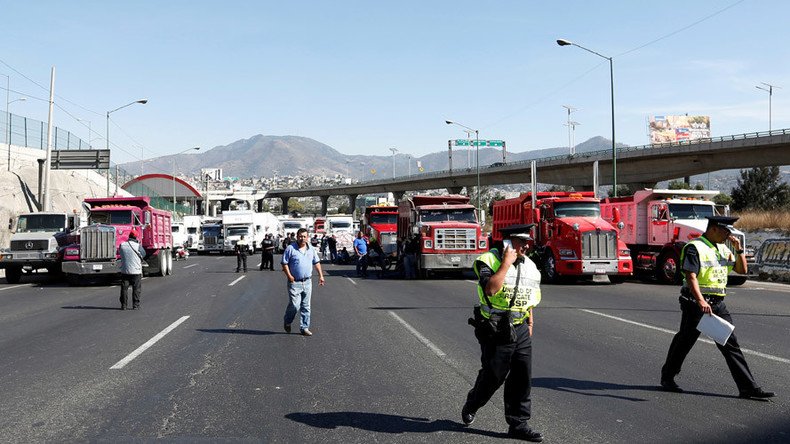 Looting and scuffles with police are being witnessed in several states across Mexico, as protests erupt amid a 20 percent fuel price hike. More than 150 people have been detained, with dozens of shops suffering damage, and highways blocked.
The 20.1 percent hike was announced on January 1, AFP reports. It immediately led to coordinated action in the central states of Mexico, Hidalgo, and Michoacan. There, the National Association of Self-Service and Department Stores reported 79 shops looted and more than 170 blocked.
There were 161 arrests across six municipalities in the state of Mexico – 35 of them minors – for "various acts of vandalism and thefts at shops," according to AFP.
Mexico City Mayor Miguel Angel Mancera said 64 arrests were made in the capital alone. At least 23 shops were looted in the capital. According to media reports, the groups looting the stores were using motorcycles and pickup trucks to make off with stolen goods.
The government condemned the situation in a statement, saying "some groups of people have seized on the situation to commit thefts and acts of vandalism under the pretext of protesting the liberalization of the price of gasoline."
READ MORE: IEA expects global oil surplus will disappear
President Enrique Pena Nieto defended the increase in price, saying it was precipitated by a global oil price hike.
"I understand the irritation and anger among the population," he said, adding that raising prices was the less damaging solution for the economy, AP reported. The measure is part of sweeping reforms that lead up to March, when the market will dictate the pricing. "If this decision had not been taken, the effects and consequences would have been far more painful."
On Wednesday, 20 more protests erupted across Mexico in the course of the day, federal police reported. The blockades affected the distribution of fuel on Tuesday, the state energy company Pemex said, following the price hike.
The company called the situation "crucial" in the northern states of Chihuahua and Hidalgo, and said they threatened the operation of airports in Chihuahua and in Baja California.
You can share this story on social media: