Beijing says its carrier group conducting 'scientific research & weapons tests'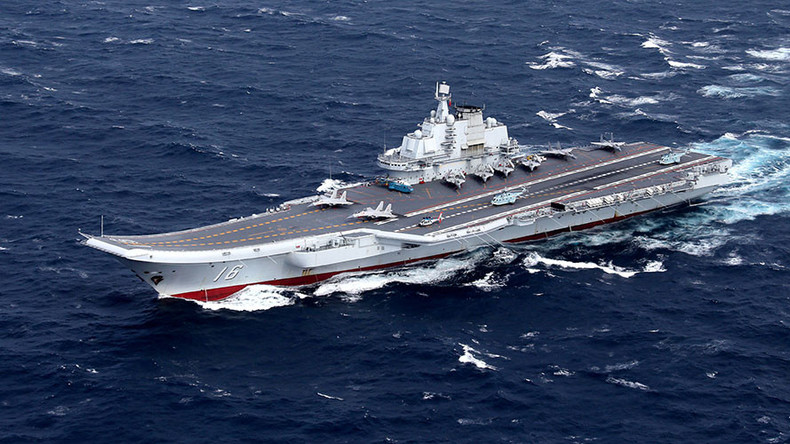 China has confirmed that its navy, headed by the aircraft carrier Liaoning, is conducting exercises in the South China Sea to test weapons and equipment, as well as carrying out "scientific research."
"The Liaoning aircraft carrier group in the South China Sea is carrying out scientific research and training, in accordance with plans," Chinese foreign ministry spokesman Geng Shuang said.
"The purpose is to test the performance of weapons and equipment," he added without elaborating further.
On Monday, the navy announced that the aircraft carrier conducted drills in the South China Sea with its fighters and helicopters late last month. Specifically, the Chinese Navy said that Liaoning's J-15 fighter jets conducted flight exercises in what it called "complex sea conditions".
While Beijing described the drills as a routine exercise, the secrecy behind Chinese maneuvers near the disputed waters of the South China Sea has made Beijing's neighbors anxious.
Shortly before the New Year, Taipei said that the Liaoning alongside five warships sailed around 90 nautical miles south of Taiwan before docking at China's Hainan base. Taiwan's defense minister, Feng Shih-kuan, warned at the time that "the threat of our enemies is growing day by day."
China had earlier reportedly carried out its first live-fire drills using the aircraft carrier near the Korean Peninsula. The Chinese fleet has also been spotted passing through the Japanese islands of Okinawa and Miyako, prompting Tokyo to scramble ships and a P3C patrol aircraft to escort the Chinese armada.
The Chinese naval maneuvers which began last month continue amid tensions with the US following President-elect Donald Trump's telephone call to the Taiwanese president Tsai Ing-wen, which goes against the so called 'One China' policy, which asserts Taiwan to be part of mainland China.
"We keep stressing that the Taiwan question is the most important and sensitive one in China-US relations. We urge the US side to fully recognize the sensitivity of the question, stick to the one China policy...and refrain from having any official contacts and exchanges with Taiwan. This position is very clear and explicit," Shuang said on Tuesday.
"China stays in touch with the Trump transition team. I believe his team is fully aware of our position on relevant issues," he added.
Taipei is worried that China might send its aircraft carrier through the Taiwan Strait during President Tsai Ing-wen's nine-day overseas state visit to the Americas, including the US.
"Any exercise the Chinese carrier conducts involving J-15 flight operations will put aircraft at close proximity with our air interception zone and pose a significant threat to Taiwanese air defenses," Taiwan's Ministry of National Defense official told the Taipei Times.
China is concerned that Tsai Ing-wen might use her visit to muster diplomatic support for Taiwan to be recognized as an independent state.
You can share this story on social media: