'Mighty & pretty': China says Japan scrambled jets over its air carrier 'for love of beauty'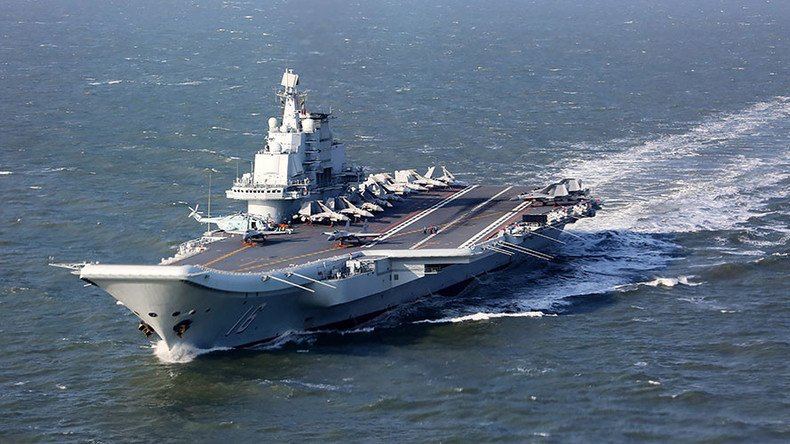 China, in what it says was a "routine exercise," had its new aircraft carrier pass between two Japanese islands the other day, and Japan scrambled its jets in response. Beijing says beauty had a lot to do with it.
The Soviet-built Liaoning was accompanied on Sunday by several warships as it passed between the islands of Miyako and Okinawa – the island where the United States' regional air force bases are located.
The Japanese were notably distressed by the incident, and scrambled jets after spotting six Chinese vessels pass near Miyako Island, in the face of its Maritime Self Defense Force ships and a patrol aircraft.
But according to Reuters, Beijing decided to brush off the incident as just a great opportunity for the Japanese to marvel at their rival's military might.
"There is an expression in China – the love for beauty is common to all men," defense ministry spokesman Yang Yujun said Thursday, following a more official response published in the PLA Daily a few days ago, where it said the Liaoning was on its way to conduct an exercise.
"Our Liaoning is both mighty and pretty. If people are interested in it, they can look at it from afar, or peep at it. As long as they don't break relevant laws and rules, or hinder navigational safety and freedom, we don't care," he added.
Although this close shave with Japan appears to be the first, the Liaoning has already engaged in military drills in the South China Sea, where several nations are engaged in a territorial dispute.
Japan recently announced a record rise in spending to beef up its maritime capabilities in the face of a potential Chinese or North Korean threat.
You can share this story on social media: