Riot at Italian refugee center: Migrants start fires & staff held hostage over woman's death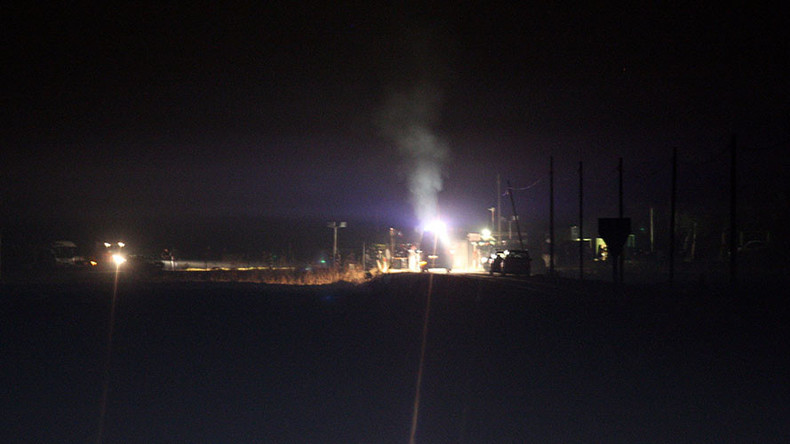 Asylum seekers at a refugee center near Venice, Italy set fires inside the facility and blocked the gates, forcing social workers to barricade themselves inside their offices. The unrest was reportedly sparked by the death of a refugee at the camp.
Some 25 frightened social workers were trapped inside their offices at the refugee facility in Conetta after migrants set fires in the camp and blocked exits on Monday afternoon, Italian state RAI radio reported.
Electricity at the center was also reportedly cut off by the angry refugees.
Riot police were called to the scene, and Italian security forces later quelled the unrest. The stand-off ended in the early hours of Tuesday after law enforcement convinced the protesters to open the gates and allow the staff to leave, local police chief Angelo Sanna told la Nuova di Venezia e Mestre newspaper.
Reportedly, none of the camp workers were injured.
The unrest broke out after a 25-year-old woman from Ivory Coast, later identified as Sandrine Bakayoko, passed away at the center, Reuters reported. The asylum seeker was found unconscious in the bathroom and was believed to have died because of an alleged delay in medical assistance.
The protesters said the ambulance arrived some eight hours after being called and that Bakayoko died after the medics arrived, according to Ruptly agency. Yet, local police and health and social care services claimed it took the ambulance some 20 minutes to arrive to the center after the emergency call.
"The hour and place of death are still to be determined," Sanna told Ruptly, adding that the deceased woman's "countrymen were obviously worried about the cause of her death and the speed of the first aid delivery, and this has induced them to start a protest."
Prior to the incident, the camp's administration had reportedly been investigated over allegations of fraud and maltreatment, according to Il Sole-24 Ore radio.
The facility, which was initially intended to house just 15 people, is hosting up to 1,500 migrants, many of whom are living in tents. Officials have said that the death of the woman was not directly linked to the high concentration of people at the camp, but added that the incident might spur efforts to upgrade the conditions at the facility.
Some 500,000 migrants have arrived in Italy by boat over the past three years, according to Reuters.
You can share this story on social media: