1 dead, 14 injured in blaze at Paris migrant center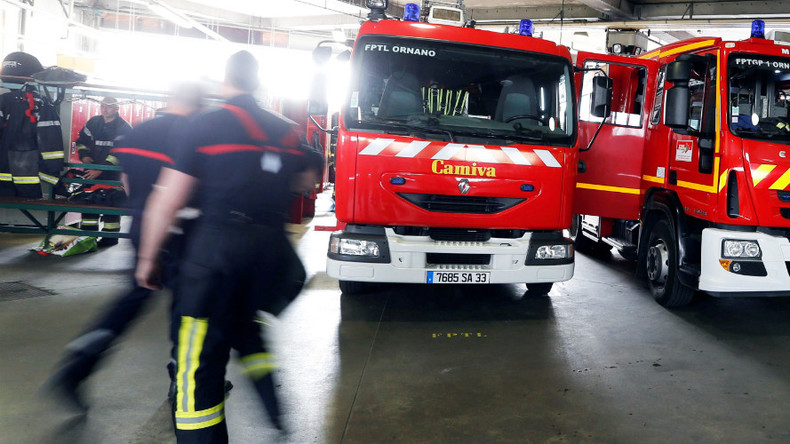 French authorities are investigating a fire that broke out overnight at a migrant reception center outside Paris that left one person dead, 14 injured and triggered an overall evacuation.
Investigators say the fire that started in the Parisian suburb of Boulogne-Billancourt at around 3:30am local time could have been set intentionally, France24 reported. Police discovered traces of combustible material and a fire accelerant near the entrance of the building.
"I think this is definitely an arson, because in the screaming I heard the people who were saying 'don't do this, don't do this, stop'," Gelson Alveal, a witness who lives across the street, told RT.
"In fact I think someone threw something in the window to break the glass and enter the building, which is why I heard the breaking glass, and exactly after this moment the fire started. It is a crime, no doubts," he said.
However, it is yet to be confirmed whether the fire was arson.
At least six people were saved "from certain death" and 13 others suffered minor injuries after inhaling toxic smoke, the Paris firefighters' press office reported following the rescue operation that ended in an evacuation of 300 people.
One man died after he jumped out of a third-floor window trying to escape the flames, police reported. Three other who also jumped out of the windows were seriously injured.
Some 70 firefighters were dispatched to the site.
The fire was extinguished quickly and the accommodation was not damaged, which means residents will be able to get back to their places soon.
Prime Minister Bernard Cazeneuve promised to investigate the case and expressed his "solidarity" with the victims in a message posted on Twitter.
The center, which includes two buildings and has 328 beds, was set up by the French charity Coallia, which specializes in social housing. The center also provides training programs for migrants.
Reception centers for migrants in France have come to replace dismantled makeshift camps such as the so-called "Jungle" camp in Calais. On Friday, some 300 migrants – mostly Afghans, Sudanese or Eritreans – left another such camp in the northern part of Paris of Saint-Denis, AFP reported.
The centers are supposed to help migrants to apply for residence and find permanent accommodation once they are accepted. There has been a number of attacks on migrants' centers in France registered last month, but those attacks didn't end in injuries or deaths.
In November, French authorities decided to raise the maximum amount of return aid to foreigners who agree to go back to their home country from the basic €650 allowance in October to €2,500. The initiative, which came after the Jungle camp was dismantled, doesn't extend to those from the European Union or visa-exempt countries.