Germany records over 900 assaults on refugees in 2016, number of arrivals drops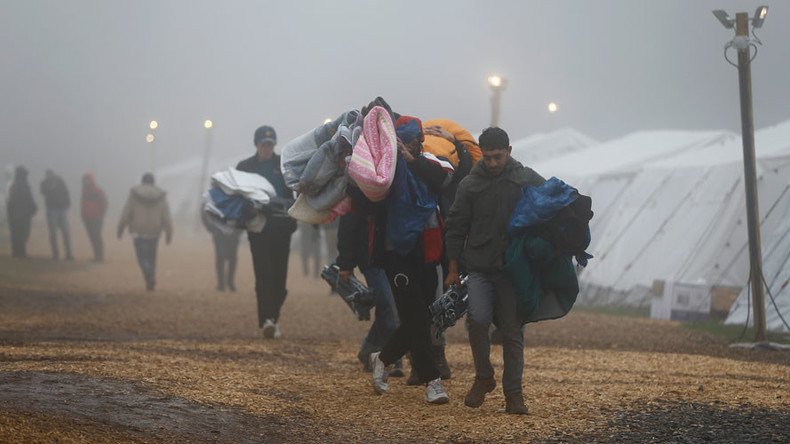 More than 900 assaults on refugee centers were recorded this year all across Germany, and over 850 of them may have been committed by far-right extremists, the criminal police said. The stunning statistics marks a fivefold increase from 2014 figures.
Of 921 reported attacks on refugee centers, 857 had a suspected far-right background, German criminal police office (BKA) said in response to a request for information filed by Die Welt daily.
Among others, the figure includes 66 arson attacks, 211 cases of hate speech and 371 cases of property damage, the report said. The remarkable statistics marks almost a fivefold increase from just 199 crimes in 2014, the criminal police asserted.
"This figure is frighteningly high," Eva Hoegl, the Social Democrats' (SPD) deputy parliamentary group leader and domestic security expert, told the newspaper. "People come here and need protection. What we don't need to do is to confuse refugee policy and terrorism," she said in an apparent reference to the recent truck attack on a Christmas market Berlin, which killed 12 people and injured 48 others.
READ MORE: Up in smoke: 45 arson attacks carried out on refugee centers in Germany in 201
In the latest incident in late December, a total of 28 residential containers, which together made a two-story makeshift building burned down at Hamburg refugee center. The fire department said that "human life [was] in danger." When fire brigades arrived, they found a crowd of about 30 people watching their shelters burn to the ground.
In mid-September, a violent confrontation erupted between 20 refugees and some 80 locals in the eastern town of Bautzen, with both sides throwing bottles at each other and attacking police. The town has seen similar clashes since the beginning of the year, and some media reports even said the local far-right "hunted down" migrants.
Earlier this year, a refugee center planned for the city of Bautzen, Saxony, was set ablaze to the delight of a crowd, which cheered and tried to prevent firefighters from putting the fire out.
READ MORE: Far-right 'hunt' for refugees in German town, police accused of cover-up & inaction
"Some people reacted to the arson with derogatory comments and undisguised joy," local police also said in a statement, adding that some of the onlookers had been under the influence of alcohol.
In August, a two-story refugee home in Bavaria caught fire in southern Germany burned to the ground. Though police found no evidence of an arson attack, this possibility was being looked into, according to DPA news agency.
Hate-motivated attacks continue to take place despite a sizeable decrease in the number of refugees who arrived in Germany this year. Around 305,000 asylum seekers came to the country this year, compared to 890,000 in 2015, Die Welt wrote, citing government figures.
In the meantime, a record number of refugees who were not eligible for or were likely to be denied asylum opted to leave Germany this year. Nearly 55,000 refugees went back to their countries of origin, according to German media.
You can share this story on social media: