Chilean marines cause national outrage with secret photos, filming of female crew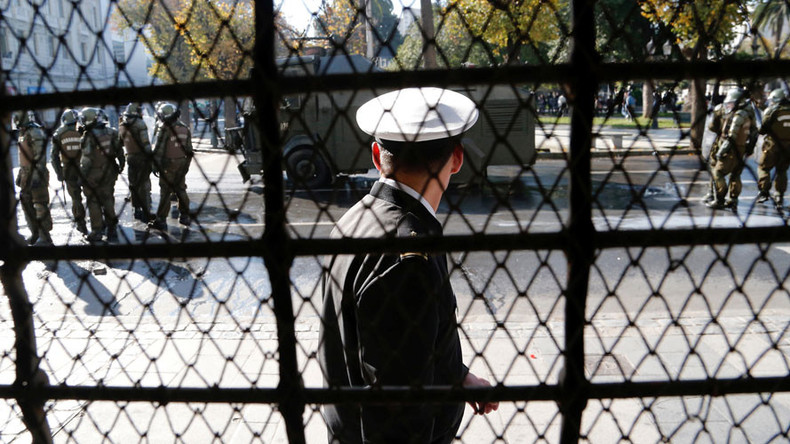 Chile's Minister of National Defense José Antonio Gómez has promised the state will hand down the "most severe penalty allowed" under military law to any sailors found to be involved in a lurid spying scandal.
The South American nation's navy has reportedly been rocked by accusations that female sailors were spied on using cameras hidden in their dormitory onboard the vessel FF-07 Admiral Lynch.
According to La Estrella de Valparaiso newspaper, images of the women changing clothes were shared in a Whatsapp group without their knowledge.
A crew member who obtained the images brought the spying network to the attention of his immediate superiors, who then escalated the situation to naval command. The allegations involve nine navy servicemen, eight of whom are sailors, according to La Tercera.
The reports have elicited a strong public response from the government, which, according to the Ministry of Defense website has "done a great job" integrating women into the armed forces.
In a post on Twitter, Chile's President Michelle Bachelet described what happened on the frigate as "unacceptable."
De ser efectivo lo ocurrido en la fragata Lynch, es inaceptable. ¡Terminemos con todas las formas de violencia contra las mujeres!

— Michelle Bachelet (@mbachelet) December 29, 2016
"Let's stop all forms of violence against women," she wrote.
At a press conference in Santiago on Thursday, defense minister said the spying, reportedly uncovered in early December, was being investigated by navy prosecutors.
Goméz revealed prosecutors had been instructed to "seek the most severe penalty allowed" by the military penal code for those found responsible for capturing and disseminating the images.
"The main suspect is in custody, the others involved have been released, but they are being tried and on Thursday they will have to appear at a hearing," he said.
Goméz added that the state will be "relentless in seeking the maximum penalties" if the allegations of misconduct are found to be true.
Chile's 1944 Military Code of Justice lists a number of punishments including dismissal from the armed forces, suspension and possible detention in a military prison for a period of up to five years.
The Chilean Defence Minister also suggested the possibility of parallel internal investigations which could lead to various other sanctions for the sailors.