'Aleppo kids give hope that adults lost' – RT correspondent on Syria trip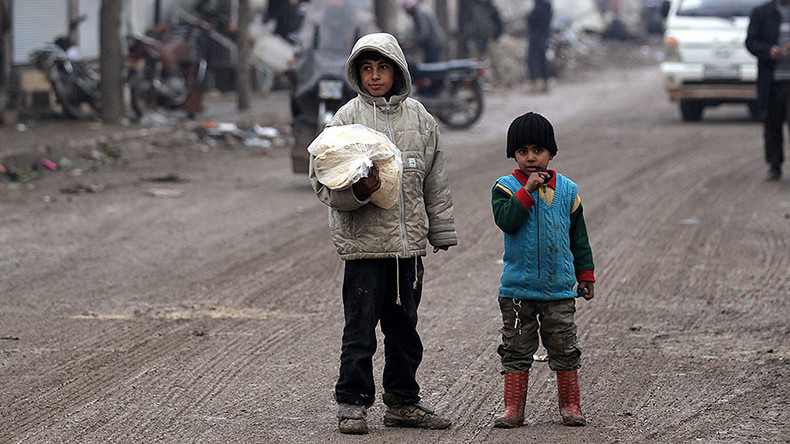 RT's Maria Finoshina, who has just returned from her tenth trip to war-torn Syria, has shared the most heart wrenching stories about Aleppo's children, whose lives have been forever changed by the conflict.
Finoshina has been covering the Syrian conflict since it first began in 2011, visiting the war zone on numerous occasions with the Syrian military. She has even interviewed militants from Islamic State (IS, formerly ISIS/ISIL) and other militant groups.
READ MORE: Scattered gun fights sound 'Battle for Damascus' (VIDEO)
"We've always tried to focus on the effect the war has had on the people here," the correspondent said. On her latest trip, Maria and her crew decided to pay special attention to the fate of Syrian children.
READ MORE: FSA-turned-ISIS fighters tell RT they 'fight injustice as self-defense'
"We've been facing numerous challenges, but the biggest of all was, perhaps, how to make a choice" on which human tragedies to report, as there were "too many," she said.
The RT team met 6-year-old Mahmoud in Aleppo, who was born without arms. A year ago, he also lost both of his legs when a mine detonated in a playground that used to be on the frontline.
"When we were filming, all adults in the room were in tears…. But he was smiling. He was having fun with his elder cousin. The two boys were playing together as if nothing happened," Finoshina recalled.
Another Syrian youngster she met in Aleppo was a 12-year-old boy named Ahmed, who was searching freezing cold streets for fuel to warm his house and cook food.
The war prevented him from starting school when he was six, and now he feels too old to attend classes with smaller kids.
READ MORE: Russian children send 45 tons of New Year's presents to Syrian kids
However, he still flashed a smile when he was approached by the RT.
Ahmed's story is "familiar… today for many children in Syria," Finoshina said.
There is a lot to learn from these kids, who despite being deprived of so much, are still able to give, she said. "They give hope that adults lost," Maria said.
READ MORE: Snow, Santa & smiles: RT sees children in post-war Homs getting back to normal life (VIDEO)
Aleppo, which had been split between the authorities and the rebels since the beginning of the Syrian conflict, was liberated from the militants earlier in December.
Before that, the armed groups holed up in the eastern part of the city had been indiscriminately shelling the government-held areas on a daily basis, killing and injuring numerous civilians, including children. Meanwhile, the Western media only focused on how the Syrian Army was bombing "moderate rebels" in Aleppo.