Record-breaking desert rains send waterfalls down Australia's Ayers Rock (VIDEO)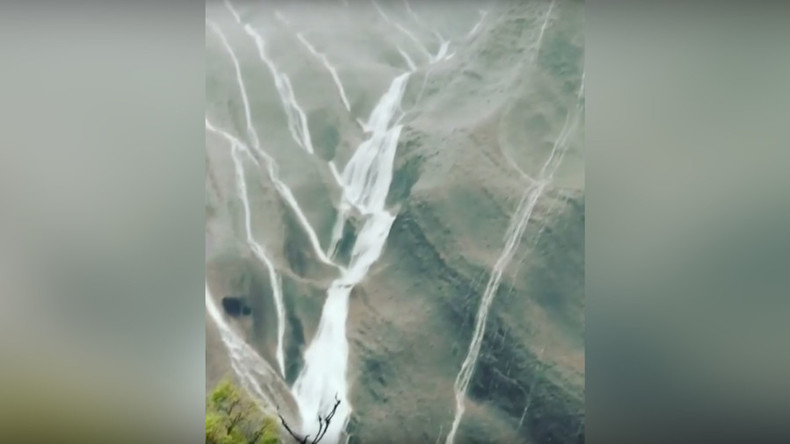 Strong winds and unprecedented torrential rains have triggered flash floods in the Northern Territory, Australia, forcing mass evacuations and sending waterfalls down the landmark Uluru/Ayers Rock sandstone formation.
Footage published by RT's Ruptly video agency shows the spectacular sight of the Australian landmark, located in a hot desert area, transformed into a wet mountain with numerous falls.
The rainstorm caused a temporary shutdown of the Uluru-Kata Tjuta National Park due to an "extreme weather event" as scores of streams cascading down the bottom of Uluru flooded the approaches to it.
"There's a lot of water… coming off the rock and what that does is just channels across the ring road around Uluru, some of those roads there were flooded by about 300 to 400mm of rain. [There are] quite spectacular but very hazardous road conditions," ABC quoted park manager Mike Misso as saying.
About a hundred locals in the remote community of Kintore, located some 520km (323 miles) from the closest city of Alice Springs, have been evacuated, some 40 percent of homes have been damaged in what was described by the Australian Bureau of Meteorology as a one in a half-century kind of event.
"Water levels reached one meter and was fast flowing in parts, however it has now receded," police reported on Monday.
The desert area witnessed some 23.2cm of rain within 24 hours after a storm reached the region on Christmas night, which brought the total amount of rainfall to 37.3cm in December, renewing a monthly record.
"We've only got about 15 years of records at that location, but it's clearly well above previous totals," Bureau of Meterology (BoM) forecaster Mosese Raico said, as cited by AAP.
According to Acting Superintendent Pauline Vicary, cited by ABC, another community, Papunya, has been "completely isolated" with a deluge making roads "impassible."
The central square in Yulara community was completely covered with water, with fire crews pumping the water out of it on Monday.
The storm is expected to lessen its impact on the affected area on Tuesday, the official Northern Territory BoM tweeted, stating that "heavy rainfall is expected to ease across southern Northern Territories as the focus shifts to Monsoon trough development across the north later this week."
Meanwhile, the park resumed operation on Tuesday, with rangers urging tourists to be extremely cautious due to the remaining water on the roads.
"All roads are now open, but there is still water across the road in several areas, so please drive with care," park officials said in a Facebook post, adding that although rangers are doing their utmost to ensure safety some of the walks will remain closed to public for now.
Uluru, also known as Ayers Rock, lies some 335km (280 miles) southwest of Alice Springs. The 348-meter-high, 9.4km-long formation is of a tremendous cultural significance to local indigenous people, Pitjantjatjara Anang, and a popular tourist attraction with up to 500,000 visitors a year. It is notable due to its shape and distinctive chameleon-like color dependent on the time of day and year. The rock has been recognized as a UNESCO World Heritage Site.
You can share this story on social media: