Hungarian PM urges Brussels to change migrant policy after Berlin attack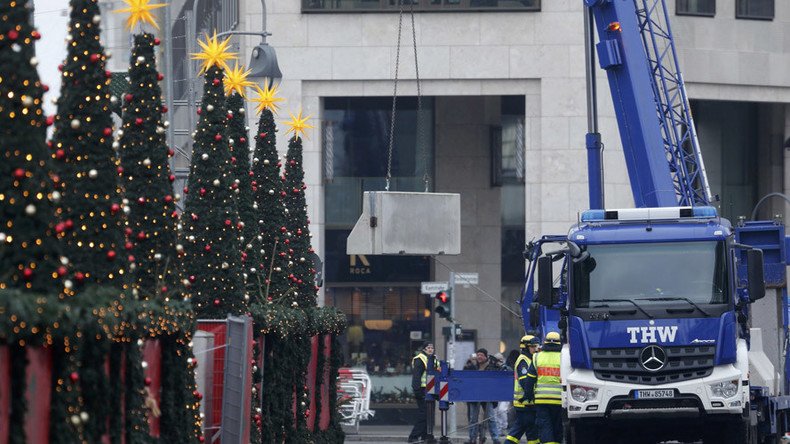 Hungarian Prime Minister Viktor Orban has called on Brussels to protect Europe's borders from illegal immigration in the wake of the deadly terrorist attack in Berlin, but European Commission head Jean-Claude Juncker prefers to rely on European values.
"It is unprecedented that, in the heart of Europe, Christians were murdered at Christmas," Orban said in an interview with Hungarian online newspaper veol.hu.
A 24-year-old Tunisian, Anis Amri, drove a truck into Christmas market stalls next to Kaiser Wilhelm Memorial Church at Breitscheidplatz in a December 19 terrorist attack that left 12 people dead and 56 others injured.
The Islamic State terror group (IS, formerly ISIS/ISIL) claimed responsibility for the attack and later released a video of the suspect pledging allegiance to their leader.
"It's clear that, in the case of migration, nothing can remain the way it was before. Brussels needs to change, migrants who entered Europe illegally must be deported, the borders need to be protected and the inflow of migrants has to be eliminated," Orban said.
Amri arrived in Europe for the first time on a refugee raft that landed on the island of Lampedusa in 2011. He told police he was a minor, though he was 19 at that time, and was assigned to a foster home and school in Catania. Italy provides unaccompanied migrant minors with protection and benefits. Armi behaved aggressively in his new home and eventually tried to set fire to his school. He was arrested for the arson attack in 2011, the same year he had arrived, and was sentenced to four years behind bars.
He was released in 2015 and was supposed to be deported, but Tunisian authorities refused to take him back.
Unable to go home, Amri went to Germany in July of 2015 and applied for asylum in April of 2016, registering at different refugee centers and using a number of fake names. In July, Amri was caught with fake Italian ID documents in a routine check on a coach in Friedrichshafen. He was then moved to a prison in Ravensburg, but was soon released again.
German intelligence had been tracking him until the authorities called off the surveillance in September.
Orban said that the Berlin attack has once again proved that the integration of non-European migrants into Europe has "obviously been a failure."
The PM said that, as a result,
"This shakes the confidence and self-esteem of the Western world. The economic slowdown, crime, terrorism, migration, indecision and insincere speech all adds up, and Western leaders won't provide the answers," Orban added.
Looking to 2017, Orban wished that more Western capitals would "revolt" against the political status quo and overthrow leaders "who refused to listen to the people" by political means.
"A year ago, no one would have believed that the UK would withdraw from the European Union (EU), or that Americans would reject the Clinton clan," the prime minister noted. "This will continue in 2017, which will be the year of revolt for European democracy."
At the same time, President of the European Commission Jean-Claude Juncker has defended the EU's open door policies.
"Terror only takes us if we allow it," Jean-Claude Juncker told German Funke Mediengruppe this weekend. It "would be wrong to put all refugees under suspicion."
Declaring that "the basic values for which the European Union stands remain unchanged," Juncker said that the EU "must offer refuge to people who flee from war zones and from terror."
"Our values, our way of living together in freedom, coexistence and openness are the best weapons against terror," he added.
You can share this story on social media: