Tsunami threat message after 7.6 quake hits off Chile coast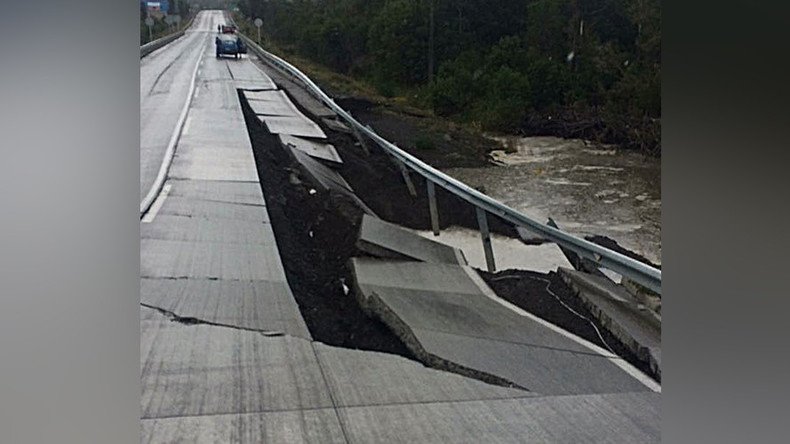 An earthquake of 7.6 magnitude was registered in southern Chile on Sunday, prompting a tsunami threat message for areas as far as 1,000 kilometers (620 miles) from the epicenter.
The quake's epicenter was 225km (140 miles) southwest of Puerto Montt in southern Chile, according to the United States Geological Survey (USGS), with a depth of about 35km (22 miles).
The National Emergency Office of the Chilean Interior Ministry and Public Security (ONEMI) has warned people in the coastal regions to leave the areas due to the tsunami threat.
POR ESTADO DE PRECAUCIÓN, ONEMI ESTABLECE ABANDONAR LA ZONA DE PLAYA EN EL TERRITORIO DE LAS REGIONES DE BIOBÍO, ARAUCANÍA, LOS RÍOS, AYSÉN.

— onemichile (@onemichile) December 25, 2016
People in the Biobio, Araucania, Los Rios, and Aysen regions have been advised to evacuate, ONEMI said on its official Twitter account.
Based on the Pacific Tsunami Warning Center's threat messages, "hazardous tsunami waves are forecast for some coasts." An earlier message said tsunami waves were "possible" within a 1,000km radius from the epicenter. Tsunami waves of up to three meters above the tide level might reach some coasts of Chile, it said.
The warning was later downgraded to a 'watch.'
An emergency operations committee has been set up in Chile. Estimated tsunami arrival times have been issued by the Chilean emergency authorities.
Around 4,000 people have been evacuated from the Los Lagos region alone, ONEMI said.
No fatalities have been reported following the quake, Reuters said, citing Chile's emergency services.
READ MORE: 6.4 quake hits Chile, shakes capital Santiago
The South American country, which has over 6,000km (3,700 miles) of Pacific Ocean coastline, is often struck by earthquakes. After one of the most powerful, a 8.8 magnitude quake off the south-central coast in 2010, a tsunami followed, devastating a number of towns along the coast.
You can share this story on social media: