Serbian stewardess who survived plane explosion & 10,000 meter fall in 1972 dies at 66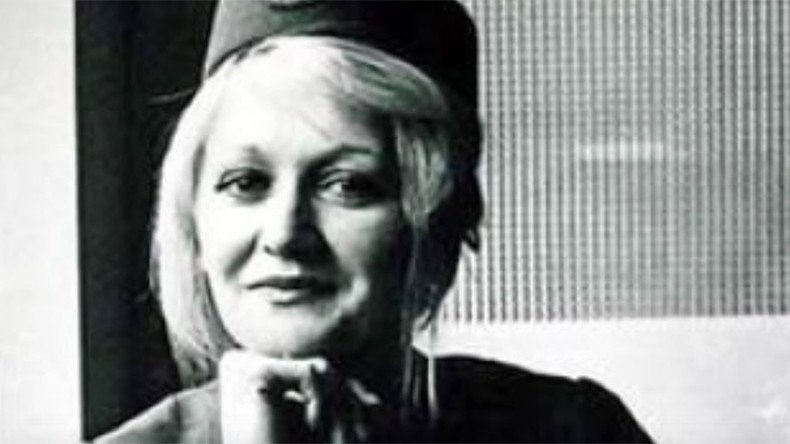 The Guinness World Record holder for the "highest fall survived without a parachute," Vesna Vulovic, has been found dead in her apartment in Serbia. Back in 1972, the former stewardess survived a 10,160-meter fall from a plane that exploded midair.
The body of the 66-year-old woman was discovered in her apartment in Belgrade on Saturday, Serbian radio reported. The report said that Vesna's brother notified authorities after entering her apartment.
The former stewardess, who once survived a disastrous plane crash, allegedly did not answer her phone for a few days. Worried for the wellbeing of Vesna, brother rushed to her flat where he discovered the body. The cause of death is not yet known.
Vesna, a Belgrade native, entered the Guinness World Records book after surviving the highest ever fall without a parachute. She was the sole survivor of the explosion of JAT Flight 367 near Srbska Kamenice, Czechoslovakia on January, 26, 1972. She was found alive amid the wreckage after plummeting some 10,160 meters.
"It is estimated that the human body reaches 99 percent of its low level terminal velocity after falling 573 m (1,880 ft) which takes 13 - 14 sec. This is 188-201 km/h (117 - 125 mph) at normal atmospheric pressure in a random posture, but up to 298 km/h (185 mph) in a head down position," Guinness said of her record, that was nothing short of a miracle.
Young Vulovic, 23 at the time of the incident, was a young stewardess- intern working for Jugoslavenski Aerotransport. On the day of the crash she was not supposed to be onboard, but fate decided to play an evil trick on her.
"Vulvovic was not even supposed to be on board. Her schedule had been mixed up with that of another stewardess also named Vesna, and she was subsequently placed on the wrong flight," Guinness said.
On January 26, 1972, McDonnell Douglas DC-9-32 exploded en route from Stockholm to Belgrade. The aircraft broke into multiple pieces midair and spun out of control, crashing near a Czech village.
Ustache, a far-right nazi/fascist group from Croatia, claimed responsibility for placing a bomb onboard the plane. Of the 28 on board, 27 were killed except Vesna who was discovered in the tail unit section trapped by a food cart with many of her bones broken.
"Her skull was broken and haemorrhaging, both of her legs were broken, and she had three crushed vertebrae," the record book said.
After waking from a 27-day coma, Vesna emerged to life to tell the story. She spent 16 months in a hospital.
"I'm not lucky. Everybody thinks I am lucky, but they are mistaken. If I were lucky I would never have had this accident and my mother and father would be alive. The accident ruined their lives too," Vulovic said thirty years after the crash.
Guinness notes that she never suffered any psychological trauma as a result of the incident, and never experienced any fear of flying.
"Her good fortune in surviving the accident is most likely due to her low blood pressure, which caused her to pass out quickly and prevented her heart from bursting."
You can share this story on social media: