Saudi-led forces used Brazilian-made cluster rockets to hit Yemen schools – HRW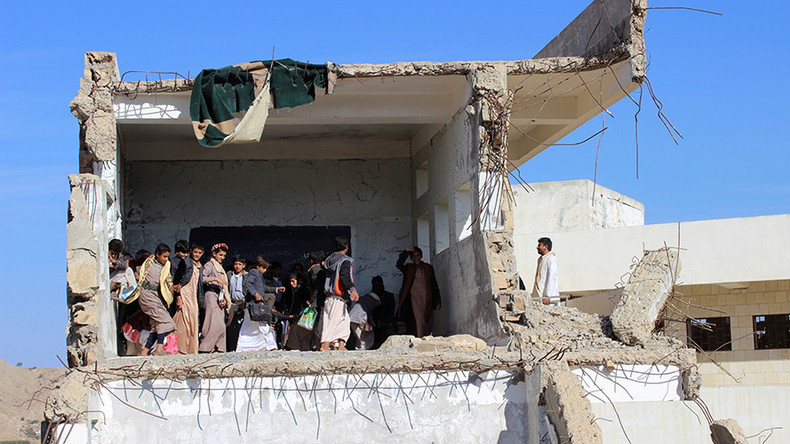 The Saudi-led coalition used Brazilian-made surface-to-surface rockets containing banned cluster munitions when it targeted two schools in the northern Yemeni city of Saada earlier this month, Human Rights Watch (HRW) says.
According to the rights group, the December 6 airstrikes killed at least two civilians and injured at least six, including a child. The attack came only a day after Brazil, Saudi Arabia, Yemen, and the US abstained from a UN vote to ban the use of cluster munitions.
Witnesses described hearing a loud explosion followed by several smaller explosions.
"We thought it's like the regular missiles that always hit Saada... which only create single explosions. This one was different, a series of explosions together... All of the bombs landed over our neighborhood, over houses, and on the streets," Bassam Ali, a 20-year-old neighborhood resident, told HRW.
Another witness, Khaled Rashed, a 38-year-old member of the local council, said, "We heard... two sounds of explosions... One louder than the other, and... after that we heard more explosions, smaller, and falling from the sky like embers... It landed everywhere, water tanks over houses, one... exploded and destroyed a taxi."
Rashed said that the rocket strike occurred near a girls' school and a boys' school, both located between the old city and the al-Dhubat neighborhood.
Dr. Mohammed Hajjar, general director of the largest hospital in Saada, told the rights group that the hospital treated seven civilians for injuries, of whom one later died, and that another had passed away before arriving.
Fathy Al-Batl, a local activist, told HRW that the wounded included a teacher, a 20-year-old student, and a 14-year-old boy.
Human Rights Watch said it "identified the remnants of ASTROS II surface-to-surface rockets, each containing up to 65 submunitions, delivered by a truck-mounted multi-barrel rocket launcher. Bahrain and Saudi Arabia have purchased ASTROS cluster munition rockets from Brazil, where they are manufactured by Avibrás Indústria Aeroespacial SA."
Last year, Amnesty International researchers discovered remnants of ASTROS cluster munition rockets remaining after an attack on Ahma in Saada on October 27, 2015, which injured at least four people.
Cluster munitions are prohibited by a 2008 treaty signed by 119 countries, except for Brazil, the US, China, Russia, Yemen, Saudi Arabia, Israel, and Iran, just to name a few.
HRW has called on Brazil to join the Convention on Cluster Munitions and cease the production and transfer of cluster munitions, noting that Saudi Arabia and other coalition members must halt all use of cluster munitions.
"Brazil should be on notice that its rockets are being used in unlawful attacks in the Yemeni war," Steve Goose, arms director at Human Rights Watch and chair of the Cluster Munition Coalition, the international coalition of groups working to eradicate cluster munitions, stated on Friday.
"Cluster munitions are prohibited weapons that should never be used under any circumstances due to the harm inflicted on civilians," he added.
According to HRW, since the start of the Saudi-led air campaign in Yemen (which began on March 26, 2015), the Saudi coalition, with direct military support from the US and assistance from the UK, conducted at least 58 "unlawful airstrikes," with other human rights organizations and the UN having documented dozens more. Since the beginning of the war, there have been multiple reports of Saudi jets targeting schools, hospitals, marketplaces, and other civilian buildings.
Airstrikes carried out by the Saudi-led coalition in Yemen are responsible for the majority of civilians killed in the ongoing conflict, the UN found in August, while calling for an international investigation into the coalition's violations there.
"OHCHR has documented incidents in which airstrikes by the coalition forces had an impact on localities with a high concentration of civilians, including markets and residential areas, as well as on events such as wedding ceremonies, frequently incurring high casualties and causing substantive infrastructural damage," the Office of the United Nations High Commissioner for Human Rights said in a report.

Earlier this year, HRW and Amnesty International documented the use of seven types of air-delivered and ground-launched cluster munitions made in the US, UK, and Brazil.
On Monday, the coalition finally admitted using UK- and US-made cluster munitions in attacks in Yemen.
"It has become apparent that there was limited use by the coalition of the UK-manufactured BL755 cluster munition in Yemen," Ahmed Asiri, a spokesman for the Saudi-led coalition fighting in Yemen, said, as quoted by the Guardian.
The Saudi-led coalition promised to stop using the UK-made munition, but left open the possibility it would continue using other types of cluster munitions in Yemen.
"The Saudi-led coalition's decision to cease using the BL-755 is an important step in protecting the people of Yemen but it is not sufficient," Cluster Munition Coalition – an international civil society movement campaigning against the use, production, stockpiling, and transfer of cluster bombs – Director Megan Burke said.
"The Cluster Munition Coalition urges the Saudi-led coalition to immediately halt the use of all types of cluster munitions."