'Russia will never initiate an arms race' – Kremlin spokesman to RT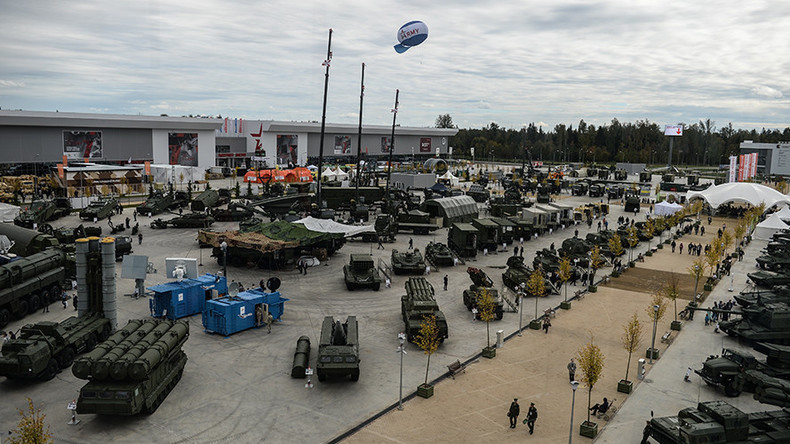 Russia has never been the first to start an arms race in the past and has no intention to do so in the future, Russian presidential spokesman Dmitry Peskov told RT, commenting on Russian President Vladimir Putin's remarks.
"President Putin stated that Russia has never been an initiator of an arms race" and is not going to be the one to do so, Peskov told RT, answering a question about Russia's reaction to recent remarks made by US President-elect Donald Trump, who said in a Twitter post that the US "must greatly strengthen and expand its nuclear capability until such time as the world comes to its senses regarding nukes."
Peskov said that Russia "is seeking a constructive new relationship with Washington to create an atmosphere of mutual trust and [create] global mechanisms for ensuring stability and security."
Peskov's statements echo those made by Russian President Vladimir Putin, who also said during his annual media conference that it was not Russia that started the nuclear arms race.
"The prerequisites for a new arms race were created after the US withdrew from the Anti-Ballistic Missile treaty. This is obvious," he said on Friday during his annual Q&A session with the media earlier in the day.
Putin referred to a key international agreement reached in 1972, under which the US and the Soviet Union pledged not to undermine one another's nuclear deterrence by developing means by which to intercept one another's intercontinental ballistic missiles (ICBMs).
President George W. Bush's administration withdrew from this treaty in 2002, resulting in its termination. Russia responded by taking measures to ensure that America's antimissile shield would not work well against Russian ICBMs, Putin said.
He then pointed out that the US is also upgrading its nuclear arsenal, including tactical nuclear weapons deployed in Europe.
"In Turkey, in Britain, in the Netherlands a replacement of American tactical nuclear weapons is underway," he said, addressing a BBC correspondent who had asked about the nuclear issue. "I hope that your program audiences and internet users know about that."
Therefore, if the two countries are engaged in a nuclear arms race, it was initiated by Washington, the Russian president said.
Meanwhile, Trump alarmed some experts and politicians in the US by telling the MSNBC program "Morning Joe" that he would not mind the US engaging in another arms race.
"Let it be an arms race … we will outmatch them at every pass and outlast them all," Trump said on Friday.
Later the same day, Trump's spokesman Sean Spicer told CNN that the US president-elect just wanted to send a general message of strength to countries like Russia and China rather than announce real plans to build up the US nuclear arsenal.
"He is going to do what it takes to protect this country and if another country or countries want to threaten our safety and sovereignty, he is going to do what it takes," Spicer told CNN.
"If another country expands theirs [nuclear capability], the United States will act in kind ... but I do believe that it won't happen because I think what they have seen, domestically and internationally, is this is a man of action," he added.
Meanwhile in an apparent attempt to calm tensions surrounding his comments, Trump said on Friday that he received "a very nice letter" from Putin, in which the Russian president called for better relations between the two countries, as reported by Reuters.
You can share this story on social media: