British Xmas gift? Germany to see its biggest evacuation due to huge WWII bomb
Published time: 23 Dec, 2016 09:19
Edited time: 23 Dec, 2016 12:43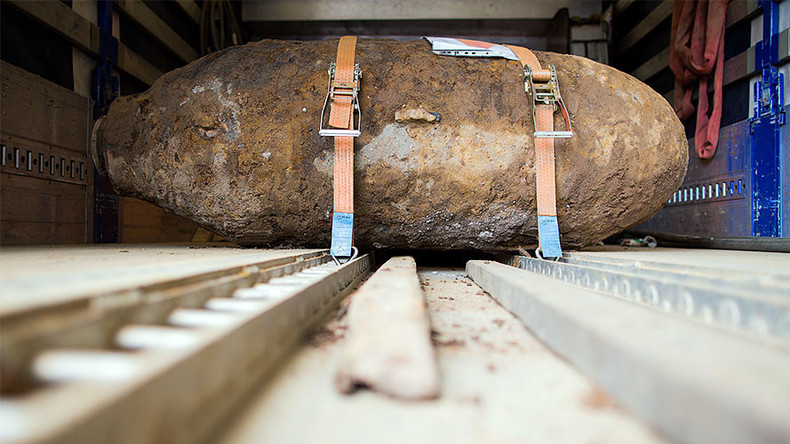 The 54,000 residents of Augsburg, Bavaria, will not spend Christmas at home, but as evacuees, while sappers defuse an unexploded 1.8-ton bomb dropped by the British in WWII. It will be the biggest evacuation in post-war German history.
The bomb dropped by the British Air Force back in the 1940s was found during construction work, Augsburger Allgemeine newspaper reported, citing a spokesman from the city council.
The evacuation and defusing of the device will take place during Christmas, which falls on the weekend this year. Authorities say the hazardous area has a radius of 1.5km, meaning that about 54,000 people from 32,000 households will have to spend Christmas away from home.
In addition to the people who will be evacuated, there will be brigades of rescue workers, police, firefighters, and volunteers who will spend Christmas defusing the bomb and working in the area.
Up to 2,500 personnel from rescue services, fire brigades, and police will join the operation, Frank Habermaier from the city fire brigade told Augsburger Allgemeine. Among them will be about 750 police officers.
Authorities say the evacuation will be over by Sunday afternoon if everything goes as planned.
But why on Christmas? The Local cited city authorities who said evacuations on work days are very complicated, unlike weekends and holidays, when there is less traffic.
Seventy years after the end of World War II, unexploded bombs still pose a threat, and are found on a regular basis in Germany, as well as in other European countries.
The biggest evacuation so far was conducted in the town of Koblenz, Germany back in 2011. At least 45,000 people were evacuated after a huge bomb was found lying in the water.
In 2015, about 20,000 people in Cologne were evacuated after a 200-kilogram WWII bomb was discovered during preparations for construction work. The bomb, believed to be of US design, was buried five meters underground, which hindered the task of the bomb disposal squad.
In 2014, German authorities evacuated about 17,000 people in Dortmund after the discovery of an unexploded 1.8-ton aviation bomb. The device dropped by the Allies over the industrial Ruhr region during the war was found when experts analyzed old aerial photos of the area.